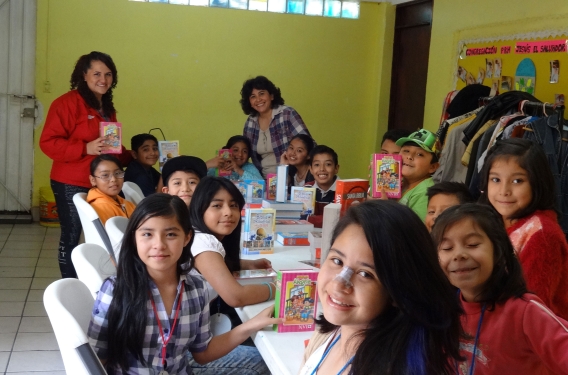 Fourteen-year-old Julio's family lacked a solid religious foundation. They identified as Catholic, but only in name. This changed about three years ago when Julio and his two sisters heard about the Saturday Kids Club held at Jesus El Salvador Church in their hometown of Juarez, Mexico.
The year-round vacation Bible school ministry—led by Blanca Gifford, a missionary with Resonate Global Mission—offers children a home-cooked meal and teaches them about God through Bible lessons, crafts, and other activities.
Julio and his sisters loved it so much they became regular attendees.
Still, Julio wanted to go deeper in his faith.
He began attending worship and Sunday school on his own to learn more about church. As his faith strengthened, he and his sisters began to ask their parents why they didn't do things like pray before meals or read the Bible at home.
Julio's parents were pleased and intrigued about the changes they were seeing in their kids.
"Julio's mom was always grateful for the wonderful program we were providing for the kids in the neighborhood," Gifford said. "Once in a while she would say to me, 'I will come to church when I'm ready. I would like to come, but not yet.'"
Still, Mexican culture and society does not always make faith an easy step.
"In Latin America, Roman Catholics tend to lump all Protestant and Evangelical churches with the cults. 'Sects' is the word used," said David Gifford, Blanca's husband and fellow Resonate missionary. "The persecution here is usually just verbal—mockery. But it can also manifest as not getting a job or a promotion, or in extreme cases, being evicted or rejected by one's family."
Julio and his family's story took a turn when their family's landlord threatened to evict them if they kept attending Kids Club.
David notes that the United States and Mexico have very different histories. While the U.S. was founded on religious freedom, the Catholic Church had a monopoly for centuries in Latin America.
In the case of Mexico, other churches were not allowed to come in and evangelize until the 1900s. As a result, Mexican culture and society is influenced heavily by a Catholic culture that's not open to evangelical Christianity.
Despite the threat of eviction, Julio's parents encouraged their children to keep going to Kids Club. "They had seen so many positive changes in their behavior in different aspects of their lives," Blanca said.
The family was evicted a month later. Yet they were not left homeless.
"God was so faithful and provided another place for them in the neighborhood," Blanca said. "Before Christmas last year, we were surprised to see the whole family coming to our Sunday service. Since then, they are all growing in the faith, having devotions at home, sharing the gospel with their friends and extended family members."
Julio and his family know what it means to be persecuted for their faith—but they have also experienced God's faithfulness through their trials.
A version of this article was originally published by The Banner.