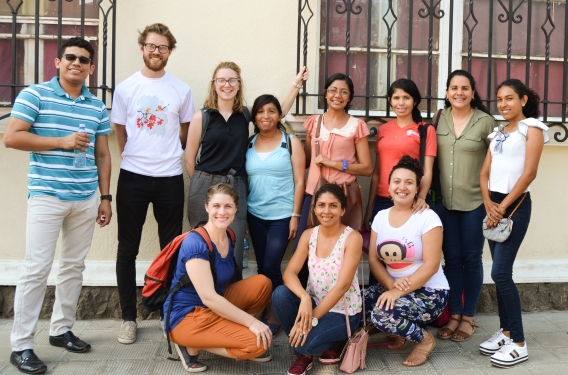 Resonate Global Mission's Cohort fellows in Central America are kicking off some new initiatives in response to the coronavirus pandemic.
An Unexpected Turn
A Resonate initiative, Cohort is an opportunity for young adults to explore their callings, serve in a grassroots ministry, and grow spiritually. In early January, seven young adults arrived in countries throughout Central America to serve with Resonate ministry partners. But just a few short months later, the pandemic caused restrictions and the year-long experience took an unexpected turn.
Participants, called fellows, went from busy days of their varied responsibilities—teaching English, leading art and music therapy for children with autism, training to lead trauma-healing circles, and more—to staying home with their host families. While a few fellows are able to continue aspects of their ministry work online, they were all left with more time on their hands and a lot of uncertainty in a culture and country they're still growing to know.
Resonate gave fellows and other volunteers in the field the option of returning home, but six out of the seven fellows decided they were able to stay in their host countries.
"I felt like God called me to be here for this year and that I should trust he knew what would happen," said Adrian Faber, a Cohort fellow serving with the Nehemiah Center in Nicaragua. "If God called me to be here, there's got to be something else going on … I had a lot of faith at the time that things would come up."
After a few weeks of adjusting and praying together over video call, fellows were anxious to respond to the many needs they saw in their communities. They brainstormed and planned new ways they could support communities during the coronavirus pandemic: Bible studies, workshops on self-care, tutoring sessions, and group calls with elderly who are stuck at home.
Kicking Off New Initiatives
Adrian is leading Bible studies and workshops with youth through the Cohort's connections in Bolivia, Costa Rica, and El Salvador. The first week, they were planning to meet with a group from Bolivia. 
"I had no idea what to expect … there ended up being over 50 people on that Zoom call," said Adrian. "We were leading a week on learning to listen. I was just talking about how do you listen to the people around you, listen well to yourself, to God. It's great. People have really great questions."
Adrian said the Bible studies and workshops are a good opportunity for people to not only dive into Scripture, but to form relationships with one another during a time when many people are feeling lonely and isolated.
In Costa Rica, Juliana Choque is helping to lead a tutoring initiative. Juliana is one of Cohort's first fellows from Bolivia and is serving with Casa Adobe, a Resonate partner in Costa Rica. Before COVID-19, Juliana was teaching English classes at Casa Adobe as well as a few other local organizations. She's still able to teach a few of her classes online, and now she's helping to organize tutoring at a school near Casa Adobe and another school in rural El Salvador.
"This is a diverse group of tutors," said Resonate missionary Rachel Beveridge, who leads Cohort in Central America. "People from Bolivia, the United States—but also in terms of their degrees and specializations. The idea is just to help these kids continue their studies during this time."
These projects just launched, and Rachel and the fellows said it's hard to know which ones will be fruitful—but working together to launch new projects is a unique opportunity for Cohort during this crisis.
Spiritual Growth
Cohort is about more than serving for fellows, however. It's also an opportunity to develop as a leader and grow spiritually.
Juliana said that one of the reasons she joined Cohort was to know God better. Through Cohort, she's been able to see and learn about different ministries in different communities.
" I've been able to see God in different ways," she said. "He works in different ways in different places … God, you're bigger than I ever thought."
Both Juliana and Adrian said that being part of Cohort during the coronavirus pandemic has offered encouragement and support.
"Rachel has been really helpful and supportive, always wanting to work through things," said Adrian. "Everyone in Cohort is working on these projects together, and it's a great way to not feel alone in it … I have a lot of faith that God is going to do big things, and I want to be a part of what he's going to do in Nicaragua," said Adrian.
"It is a huge encouragement to be with these young adults who are practicing the incarnation as they ride out this crisis—whatever it's going to look like—with the people of the countries that host them," said Rachel.
Thank you for supporting young adults serving with Resonate through Cohort! Please pray:
Pray for the health of Cohort fellows as they continue to serve their communities during the coronavirus pandemic.
Pray for Rachel as she leads Cohort in Central America. Ask God for wisdom and guidance.
Pray for people throughout Central America who are sick with COVID-19, have lost loved ones to the virus, and are struggling to provide for themselves and families. Ask God to heal those who are sick, comfort those who are grieving, and provide for those who are in need.
Give thanks for the new initiatives that Cohort fellows are launching in communities. Pray for wisdom and guidance as they lead and serve—and that these acts of love will point people to Jesus.