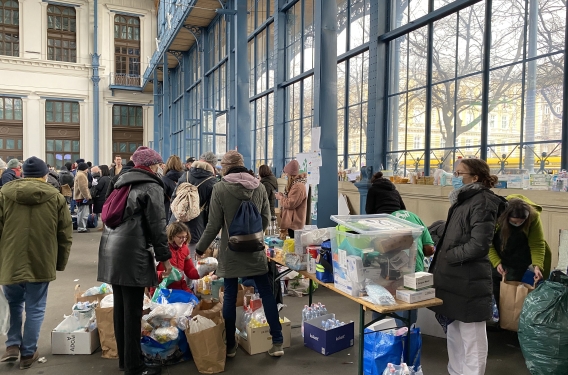 Resonate missionaries are seeing God's guiding hand in their work as they step up to meet the needs of refugees fleeing Ukraine
Resonate Global Mission missionary Jeff Bouman rushed to the Budapest Nyugati train station in Hungary. That morning, Jeff and his colleagues learned of a family with a newborn baby who had just arrived from Ukraine. They were huddled in a bus, trying to stay warm.
"I quickly went there, naïvely expecting a mom, dad, and baby," said Jeff. "When I found them, I learned that there were two families traveling together, with a total of six adults and five children."
Jeff hopped on the bus and told the family that his church—just a five-minute walk from the train station—had a place for them. He helped them gather what meager belongings they had been able to pack and take with them. He carried the sleeping two-year-old as he led them the short walk to the church building.
"They were able to sit, clean up, charge phones, eat, and begin making plans for their next step," said Jeff.
More than 2.8 million people have fled Ukraine in the past few weeks. Of those fleeing, more than 255,000 have been seeking refuge in Hungary, where your Resonate missionaries Jeff and Julie live and serve. The Boumans work mostly with international students living in Budapest, but as refugees from Ukraine have arrived in the city, your support has been critical as the couple's work has intersected in ways that only God can orchestrate.
Serving Students Who Were Studying in Ukraine
Among the people seeking refuge from the conflict in Ukraine are people who have been living in the country as immigrants from countries throughout the world. The Boumans and their church community have found a unique niche serving part of this population.
One night, a Kenyan student—who is part of the international student group the Boumans minister with at their church—met a group of Nigerian students who had been studying in Ukraine. They were at the train station and had nowhere to go.
"He called our pastor, very late, and was able to get permission to bring a few over to our church," said Jeff. "One thing led to another, and soon there were about fifteen, all medical students who had until last week been studying medicine at a university in Kharkiv."
"They had been traveling three days continuously, and therefore were happy with what we had to offer, which was basically a place out of the cold, with internet, toilets, warmth, and welcome."
But the next morning, the Boumans and their church community sprang into action to provide breakfast. Since then, they've been providing 24/7 care for refugees, mostly hosting Nigerian medical students and their families fleeing Kharkiv. The father of the newborn on the bus, for instance, was a Nigerian-born cardiologist working in Ukraine.
"It seems clearly providential that our focus has become African students fleeing Ukraine, at least for now. It was entirely unpredictable, but in retrospect, we can see God's guiding hand in how things have played out."
These refugees face unique challenges. In addition to meeting basic necessities like housing, food, and clothing, they are also wrestling with challenging questions regarding their futures and all of the hard work they've poured into their past few years of their careers and schooling.
"The people our church is serving—mostly university and graduate students who are third-country nationals—are facing very difficult decisions and legal questions about their status as students," said Jeff. "Imagine being in your sixth year of medical school, just about to take your final exams and graduate in May, and to have this happen."
Some students are wondering when they'll be able to return so they can finish their studies, residencies, and exams. Other students are researching whether they can transfer to universities in Hungary or other European countries.
"We are helping them as best we can with these difficult questions," Jeff shared.
God's Guiding Hand
In the meantime, the Boumans' are working with their church community to meet their short-term needs. They've also been assisting the Reformed Church of Hungary's refugee ministry that is focusing on more long-term needs for all refugees, including housing, education for children, language learning, and healing for trauma.
The Boumans have been encouraged by the businesses and volunteers who have dedicated time, energy, and resources to help refugees. Their church community, for instance, averages 20-50 people in attendance every week; 30 people in their congregation stepped up to serve. They've also had 30 mattresses donated, along with meals and other supplies. 
Jeff and Julie continue to be amazed by how their ministry with international students continues to intersect their work with refugees.
"Our international student fellowship, which is made up mostly of Kenyan students, has been able to meet twice now with the largely Nigerian-born students who are now here after being displaced from Ukraine," he said.
One night, they rented pool tables at a local billiard hall so the two groups could get together, talk with one another, and have fun. To be able to provide something "normal" during a time of crisis was an important way to show care.
Through your support of the Boumans through Resonate, you are part of this important work too.
"It seems clearly providential that our focus has become African students fleeing Ukraine, at least for now," said Jeff. "It was entirely unpredictable, but in retrospect, we can see God's guiding hand in how things have played out."