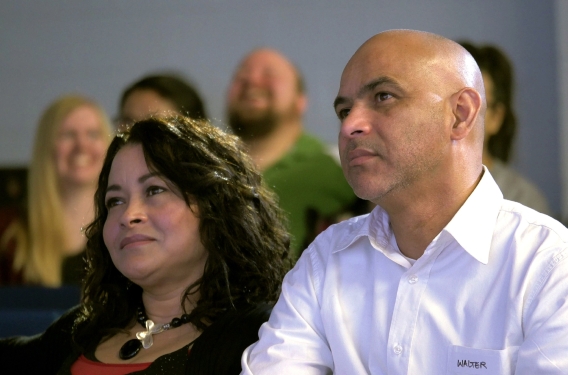 Shoveling piles of snow was a big adjustment for Walter Bonilla and his family when they moved from Honduras to Edmonton, Alta., in 2013. 
But every time he steps out into that biting winter air, Bonilla has a reminder that he didn't have to make this adjustment without help—for instance, his jeans. 
"It's a pair of jeans with insulators, and I always remember those jeans because they came from my church."
Bonilla and his family came to Edmonton as refugees, where, along with the big adjustment to a new climate, they faced many other struggles that come with moving to a new place, including a lack of language skills, resources, and community. 
"After a few weeks of living in the city, we knew we needed help," Bonilla recalled, "a place where we could get support."
For Bonilla's family, that place was mosaicHouse, planted with support  from Christian Reformed Home Missions (now Resonate Global Mission). Through a family friend, Walter connected with Victor Ko, mosaicHouse's pastor, and attended a Sunday service.
"We were really nervous. We sat in the back row, almost like we didn't want to be seen."
That feeling of unease quickly went away. That first day, the family joined in "Table Fellowship," mosaicHouse's weekly potluck.
"This is a value that we cultivate; we appreciate, we welcome, emulating who God is, " adds Ko.
Bonilla and his wife were able to have conversations with other adults in their first language instead of having their children translate for them. They soon joined one of mosaicHouse's "house churches" and began to feel like they were part of the community. 

"We want you to feel that God is a welcoming and hospitable God," said Ko, the pastor who planted mosaicHouse. "This is a value that we cultivate; we appreciate, we welcome, emulating who God is. Many of us are in a house church; we build friendships and that naturally exudes into mosaicHouse."

"MosaicHouse is a family for sure," agreed Bonilla. "We are a church. We are divided into house churches, and that is a small group of people that you connect better with. For us, this is a second family and the whole church is a third family." 

As Bonilla gained a stronger sense of belonging to Edmonton, he and his family, in turn, felt a stronger sense of belonging to Christ. He and both his sons were baptized at mosaicHouse.

"We have become more close to God here in this city than we were before," said Bonilla. "I was never so close to a church as here. Never involved at this level, never praying like I do now."