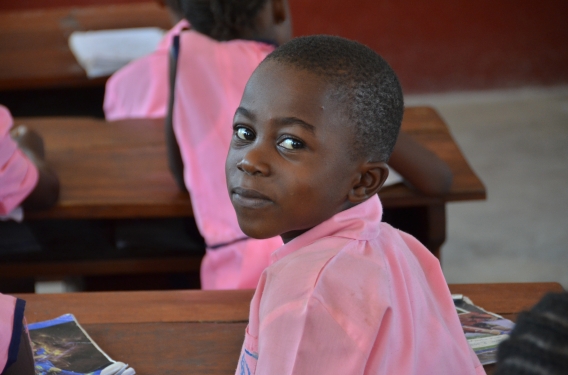 Kabala is a busy town in northern Sierra Leone surrounded by mountains and lush green land. Like most of the population in Sierra Leone, most people in Kabala are from a Muslim background—but you're standing alongside the community's Christians to help the church grow across generations.
One of the ways the church is growing is through Kabala Christian School. Years ago, Resonate partnered with Global Partners in Christian Education, Schools for Sierra Leone, and the Christian Reformed Church of Sierra Leone to start the school, and you still support it today as teachers provide quality education for students while discipling them to become strong followers of Christ. Many students who attend Kabala Christian School come from Muslim families. Despite religious differences, parents are happy to enroll their students.
"All they need is for their children to get a quality education," said your Resonate missionary Istifanus Bahago, who serves with the Christian Reformed Church of Sierra Leone. He added that, to most of the Muslim families, "the matter of becoming Christian is a matter of the child growing up to make a decision" on their own.
And many students decide to follow Christ after learning more about the gospel at school. Your partnership with Kabala Christian School changes their lives, and that transformation tends to ripple into the lives of their families and friends.
But that's not the only way the gospel spreads through this school. In a community where most people practice Islam, it can be a challenge to find Christian teachers. This seemed like a stumbling block at first, but the Holy Spirit has used it as an opportunity to expand God's kingdom.
After much deliberation, the school felt called to invite Muslim teachers to join their staff.
A Muslim Teacher in a Christian School
Mr. Sana Samura, a chemistry and math teacher at Kabala Christian School, was raised in a Muslim family. His father, a well-known medical doctor, was actually a leader in a local mosque. And although Sana had married a Christian woman, he had no interest in considering what Christianity said about Jesus Christ as Lord and Savior.
But one day he noticed a job opening at Kabala Christian School. Despite his strong ties to Islam, he applied.
Sana is a skilled educator, and the school was excited to hire him. Sana didn't personally share the Christian faith, but he felt comfortable enough reading the Bible with students, incorporating Christian teachings into classroom lessons, and attending the school's morning devotions with staff and students. It was just part of the job.
But as the school days turned into weeks, and weeks into years, Sana grew more and more interested in God's Word.
Mr. Alusine Bundu, the principal of Kabala Christian School and a Resonate missionary, had given Sana and all the other teachers a Bible and had encouraged them to find a story they could share with one another and their students. 
It wasn't always easy for Sana to read the Bible—and he definitely didn't want his father to find out—but Sana was intrigued and a little confused. He started reading the Bible at home and comparing Scripture with stories in the Quran. It raised a lot of questions for him, and he started talking with Mr. Bundu and the teachers he worked with. Slowly he started to become less confused and more confident. And then finally, Sana decided to follow Christ.
He received Jesus as his Lord and Savior.
"It was as a result of reading the Bible that his eyes were opened to the truth about God and salvation. He saw assurance of the salvation of his soul in the Bible," said Bahago.
Reaching the Unreached
Today Sana worships with the new CRC congregation that meets at Kabala Christian School. And he's not the only teacher who has learned about the hope and grace of Christ by teaching there. Two other teachers have also become followers of Christ.
"One of the main purposes of establishing a Christian school is to reach out to the unreached with the gospel of Christ," said Bahago. "Indeed the school is a catalyst of changing souls by bringing them to Christ."
Thank you for supporting the ministry of your Resonate missionary Istifanus Bahago, the Christian Reformed Church of Sierra Leone, and Kabala Christian School! Your support is making a difference in people's lives and is helping the church to grow.