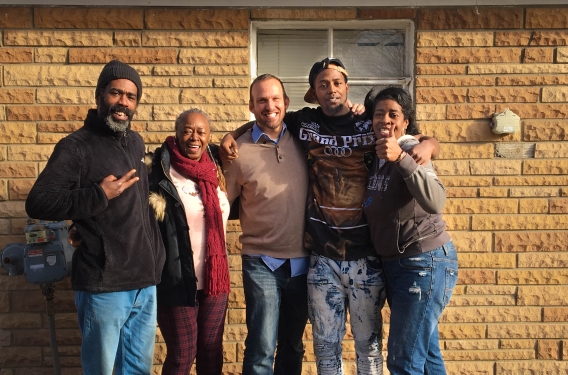 "I came into ministry in an unconventional fashion. It was God," said Josh Cook.
Josh is the perfect person to lead Resonate partner Hesed Community Church in Detroit, Michigan.
A Christ-Centered Presence
Located in a small house three doors down from a liquor store, Hesed is a Christ-centered presence in a neighborhood with empty lots, abandoned houses, homes where water and heat are unreliable, and police are on patrol. At Hesed, people can eat, do laundry, take showers, and find clothing and toiletry supplies. A gathering place, it's also where people can learn about Jesus, grow spiritually, and build deep relationships with their neighbors.
Resonate local mission leader Mark Van Andel and the Reformed Church in America's Nate Bull copastor Hesed—but Josh is an essential leader for ministering within the Detroit community.
Raising Up Local Leaders
"One day I was having a conversation with a young man in our community," said Mark. "[The young man] said to me: 'That works for you where you grew up, Mark, but not for us here in this neighborhood."
That's where Josh comes in. When Mark met then-teenage Josh 13 years ago, he immediately recognized leadership qualities in him. "Other people looked up to him. I could see God working in Josh's life, and I had vision for the man he could become." Mark said he saw that Josh could work well with people in this context.
Mark has discipled Josh to live out his faith ever since. The two have walked alongside each other through many seasons of life. Because Josh grew up in Detroit and has had experiences similar to those of Hesed's neighbors, Mark knew that Josh would be a natural fit to supervise Hesed.
But the position hasn't come without challenges.
The Impact of a Small House
"At first it was hard," said Josh. People will knock on Hesed's door at 2 a.m., asking for warm clothes and toiletries, or seeking a safe place and a listening ear.
Mark and Nate are there every step of the way. "When a challenging situation comes up, we pray together and discuss how the Lord may be leading us," said Mark. "[Josh] helps to translate [our] good intentions into effective ministry within this cultural context."
And they've seen God at work. "This is a place where people come, knowing they'll be safe," said Josh. "I see the impact this small, little house on the corner is having."
Josh's natural leadership gifts, mentorship from Mark and Nate, and guidance from God have shaped him into an influential leader. Thank you for partnering with him in ministry!