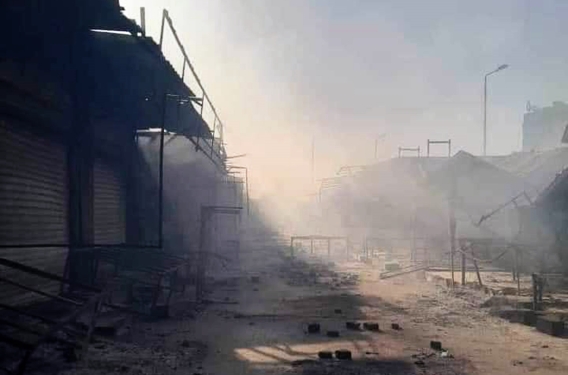 Resonate missionaries have been serving alongside Sudanese for years. They're asking you to pray.
Resonate missionaries in the Middle East are asking for prayer for Sudan, where violence erupted more than a month ago. 
"While we do not have permanent presence in Sudan, Resonate has been serving through and beside Sudanese, and directly in Sudan, over several years," shared Resonate's Regional Mission Leader for the Middle East.
Fighting in Sudan broke out on April 15, 2023 between the Sudanese army and a paramilitary group known as the Rapid Support Forces (R.S.F.). Residents are not only experiencing bombing and shelling, but also looting and dwindling supplies of food, water, medicine, and electricity.
Resonate missionaries cannot be placed in Sudan due to security concerns, but several missionaries serving in the Middle East work closely with Sudanese immigrants and refugees. One missionary couple has close ties within the country, having visited Sudan many times to teach in a seminary. The area where they lived and worked has been bombed.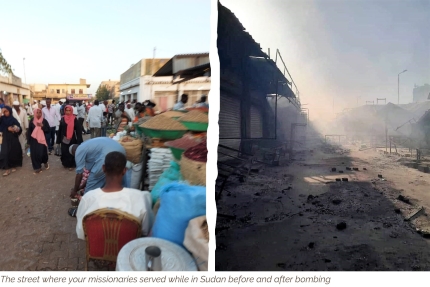 "This is so close to home for me," shared one of the missionaries. "I know so many people there. Two of my students there have been killed in the fighting."
Photos from his friends show empty streets and the ruins of bombed buildings. While news outlets and international organizations are reporting 500 deaths, he's hearing from friends on the ground that the number is likely closer to 5,000. 
"Most from the relentless bombing and shelling," he said.
A video he received from a friend showed the Evangelical Church in Bahri's building after being hit by a bomb. It was burning.
The friend shared in the video: "There continues to be firing of heavy guns and bombs that filled the church ... the church was on fire and we called the fire department but there was no one there to help so the church continues to burn ... no help is coming ... please pray. This is God's house."

Tens of thousands of people within Sudan are displaced and seeking refuge. The needs are immense—for both those who are displaced and for the communities welcoming them.
"Most are living on the floor of churches in the area or simply along the side of the road," said the missionary. "Most churches provide some kind of food to keep people alive but things like clothes, medication, and non-food supplies are not available anywhere, even if you have money."
"Imagine a town of 5,000 suddenly having 50,000 people descend on you, fleeing with nothing but a small bag and whatever they can carry. All the stores have been emptied and anything incoming is limited because of the war cutting off all supply chains."
Resonate's Regional Mission Leader for the Middle East shared that Resonate missionaries are working on providing support and meeting needs. First, they are sending people and supporting other groups who are welcoming people at Sudan's borders.
"This is an opportunity for them to encounter the love of Christ in very practical ways," he shared.
Secondly, Resonate missionaries have found a way to transfer money to people in Sudan, but supplies are scarce. They are working on shipping supplies, but there's a risk that buses will be raided before reaching the people in need
"Basically, we are relying on people we know who are Sudanese who are figuring different ways to get help there. And prayer," shared one of the missionaries.
Missionaries ask you to join in prayer with them. Please pray:
For supplies to reach those in need. Specifically ask God to provide food, clean water, medical supplies, and more to communities. Pray for generosity and for supplies to reach communities without being raided.

For those who are displaced from their homes. As refugees enter new countries, pray that they will be welcomed and meet people who identify as Christians and do what Jesus would do. "Not reject them, but serve them with love and remind them that Jesus is the way, the truth, and the life, despite all their poverty, pain, and trouble," said Resonate's Regional Mission Leader for the Middle East.

For leaders and organizations who have the power and ability to intercede

For comfort for those who are grieving the loss of loved ones

For peace and an end to the violence
Names have been concealed due to security concerns