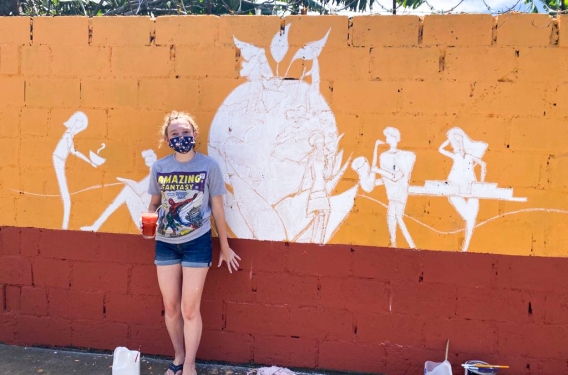 Teenagers who volunteered in Costa Rica are taking important lessons in hospitality and creation care back home to Michigan.
What does painting a wall have to do with mission?
On a hot and humid day in August, a group of teenagers from Ann Arbor Christian Reformed Church in Michigan gathered outside of Casa Adobe—a Resonate Global Mission partner in Santa Rosa, Costa Rica—and painted a wall. But it was the people they met that gave them lessons to take home.
"In the Santa Rosa neighborhood, this beautification of public space means a lot. Fresh paint doesn't just mean higher property values. It shows the neighbors that Casa Adobe is a welcoming space where people can find beauty and hope," said Adrianna Herrera, a Resonate missionary.
Adrianna serves in Nicaragua, but she traveled to Costa Rica to work with the teenagers that week. The 13 young people and two adult leaders spent a week on a service and learning trip at Casa Adobe, an intentional Christian community that Resonate missionaries Jim and Ruth Padilla DeBorst started and are a part of.
These teens didn't just fill time with a painting project, they spread a message of hospitality and hope.
People from a variety of nationalities—some of whom have come to Costa Rica as refugees—live together at Casa Adobe and seek to grow together in harmony with God, land, and fellow human beings.
"The teens from Ann Arbor spent the week learning about 'a different way' of serving, worshiping, interacting with creation, and making friends," said Adrianna.
The students stepped outside of their comfort zones and experienced a way of life that was different from their own. They lived with host families, listened to stories from people living at Casa Adobe, dug into Scripture, built relationships with one another and the community, engaged in service projects, and learned about and discussed justice.
Bill Vander Roest, one of the group's leaders, said the experience was transforming—and transformation is one of the goals of Resonate's service and learning trips. Resonate not only wants teams to serve, but also to learn from the community they're visiting. Whatever God teaches them is a lifelong lesson they can bring home.
Listening to a member of Casa Adobe share her family's story was especially impactful for the group, said Bill. The family came to Costa Rica as refugees from Venezuela after a family member was killed. The family was forced to flee.
"[Their] story brought the issue of refugees into sharp focus for everyone in our group," said Bill.
The group also learned a lot about caring for creation and are taking what they learned back home.
"The whole issue of creation care is a primary focus in Costa Rica and the teens have discussed ways to sensitize their families, friends, relatives, and others to this cause and to do specific things to set examples," said Bill. "Many of the teens are trying to emulate the food conservation and recycling efforts they saw in Costa Rica."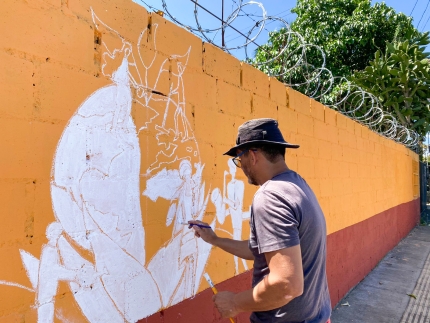 But a common theme for the group—from building friendships with one another and host families, to witnessing the community at Casa Adobe and participating in that community—was hospitality. 
"One of the biggest ways we can learn and change from Casa Adobe is probably just including everyone," said one student. "The best part of Costa Rica and Casa Adobe was the community."
"One thing our church can learn from Casa Adobe is the great sense of community there," said another student. "They all worked together and everyone took on a role, whether they were gardening, cooking, and working to help someone else."
Yet another student shared that an important lesson was investing in community. "Welcoming is such an important thing. All of the people at Casa Adobe welcomed us—total strangers—with open arms and that was a beautiful thing."
Adrianna shares that the teenagers did not only receive hospitality as they joined in the community, played soccer (football) with local teenagers, enjoyed meals with families, and painted a wall—they also extended hospitality.
"These teens didn't just fill time with a painting project, they spread a message of hospitality and hope," said Adrianna.