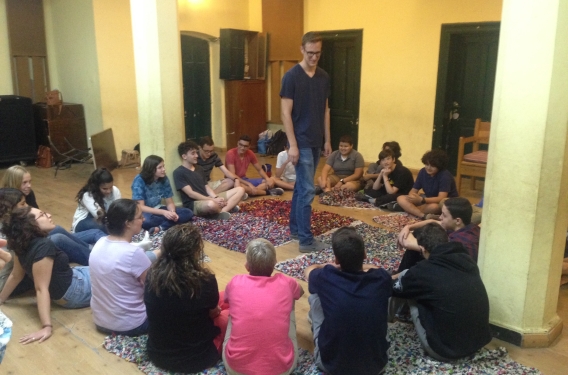 When one door closed for Adam* and Kelly*, God threw another door wide open. Now, they're opening a door for students who need a place to belong.
Adam and Kelly had been serving as Resonate Global Mission missionaries in the Middle East, working with people from different religious backgrounds—one of their passions and goals for their ministry.
But then visa complications forced them to leave and move to another Middle Eastern country, where an international church had been looking for a new youth pastor for several years.
This was not the work Adam and Kelly had envisioned for their ministry. Whereas they had a passion for working with people from different walks of faith, most of the students in the youth group were children of missionary parents. Children from strong, Christian homes.
Nevertheless, Adam and Kelly quickly agreed to volunteer as leaders—and God slowly started to shift their hearts and calling as they realized these students faced unique challenges in their walks of faith.
A Safe Space
The children of missionary parents, the students Adam and Kelly work with are Third Culture Kids (TCKs). As a former TCK herself, Kelly understands the insecurity and uncertainty they struggle with.
"In general, TCKs have a hard time finding a sense of belonging and home," she said. "They feel out of place in the culture they're living in because they're so influenced by their passport culture—and they feel out of place in their passport culture because they're so influenced by the culture of where they're living."
But that's not all.
"Even though a lot of these kids grew up in the church, they still have hard questions," Kelly said. "But because they're missionary kids, they might feel like they can't—or shouldn't—ask these questions. A lot of times, you forget that they need a support system just as much as their parents."
As youth leaders, Adam and Kelly offer students a safe, supportive community where they feel they belong. Early on, Adam and Kelly established an "open door policy." Students are welcome—and encouraged—to stop by their home to spend time in community with Adam, Kelly, and other students outside of regularly scheduled youth group events.
"Some of the deepest and most meaningful conversations we've had with students were around our table over a spontaneously-ordered pizza … they know that our home is always a safe place, not only for official youth group events, but simply as a space to 'do life' together."
Now, Adam and Kelly feel called to stay where they had not planned to go. Adam stepped up to fill the church's need for a youth pastor, and the couple is looking forward to continue building relationships within this community.
Please pray for Adam and Kelly as they provide a safe space for these young believers and disciple them in their faith.
*Names changed for security