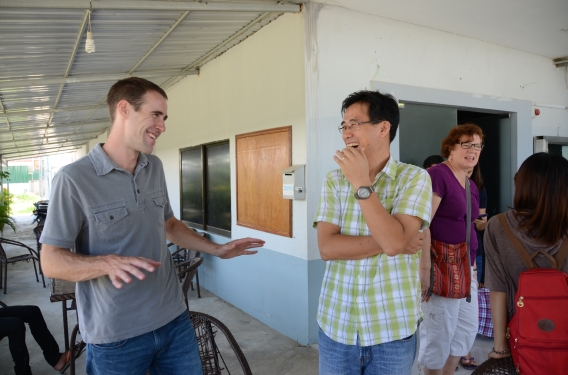 Christian books could help Cambodian believers grow and mature in their faith—but only if they're able to read them.
That's why Fount of Wisdom Publishing House is working with Resonate missionaries Gil Suh and Justin Van Zee to find Christian books to translate.
Why do Cambodian Christians need books?
"The Cambodia church is young with mostly young leaders," said Suh. Only two percent of Cambodia's population are professing Christians—and many are first-generation believers.
Both Gil and Justin disciple young believers and help them grow in their faith, but Christian books are valuable resources for young and new believers to study and grow independently.
Yet there are approximately only 16 million speakers of Cambodia's official language, Khmer, worldwide. The number of Khmer-speaking Christians are fewer still. Because of this, there are not many Christian books written in Khmer, and most Cambodians cannot read books written in other languages.
Fount of Wisdom Publishing House is tackling this issue by encouraging and training Khmer writers—but those projects take time. To help meet the pressing need, the publishing house is also translating Christian books written in English into Khmer.
But with millions of English books available, which books should the publishing house translate?
Selecting the best books.
Not all foreign books speak to the Cambodian context. To help find the best books to translate into Khmer, Fount of Wisdom formed a book selection committee of six members—the publishing house's executive director and five missionaries who have experience working with the Cambodia church, including Suh and Van Zee.
Together, the members choose a set of books to read across several genres, including Bible dictionaries and commentaries, practical guides for evangelism and discipleship, stories for young believers, and books for healthy family life. The committee meets once a quarter to discuss the books—sometimes as many as 20 at one time—and whether they fit the Cambodian context, are helpful for spiritual growth, and should be translated into Khmer.
As a result, the number of Christian books available as resources for Cambodian Christians is growing. Fount of Wisdom has been able to translate books such as Spiritual Leadership by J. Oswald Sanders and The Five Love Languages by Gary Chapman.
The Khmer translations will help Cambodian Christians unpack the lessons of the Bible, grow spiritually, learn more about discipling others, and more.
"Through reading, Cambodians can encounter new ideas and learn on their own," said Van Zee.  "When I reflect on how God formed me to be who I am today, I see that God used printed materials to expand and deepen my faith. I want Cambodian Christians to have that same opportunity."
This article was originally published on crcna.org.