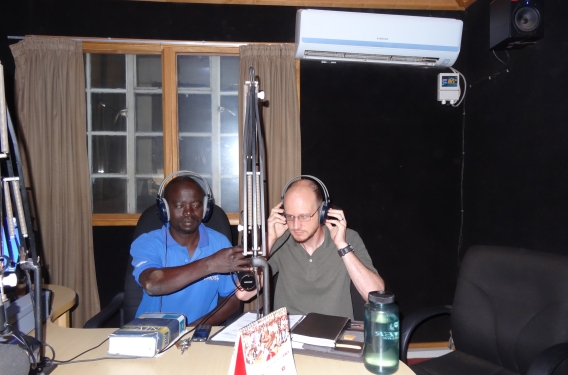 When the coronavirus pandemic hit, many believers wrestled with questions of faith: If God is good, why is this happening? Is God punishing us?
"In Uganda, where the false prosperity gospel is usually taken for granted as truth, many Christians don't know how to think about suffering in their lives, especially sickness and poverty," said Resonate Global Mission missionary Anthony Sytsma.
Sytsma and Richard Okiror, who serves with the Pentecostal Assemblies of God Soroti Pamba Church, started preaching every week over the radio to provide support to believers during COVID-19 restrictions. In Uganda, internet access is hard to come by, so many people tuned in to the radio for worship and teaching. 
"We learned that people really appreciated hearing sermons that had more theological depth than they were used to hearing," said Sytsma. 
Discovering a hunger in listeners to learn more about God's Word, Sytsma, Okiror, and their team knew they needed to continue teaching over the airwaves—even as COVID-19 restrictions started to loosen. They launched a new radio program called Going Deeper. The program teaches people in basic theology and how to read and interpret Scripture, and shares ways they can grow in relationship with God.
The team has covered a variety of topics, including prayer and the fruits of the Spirit. But the first series of episodes focused on God's sovereignty, the problem of evil and suffering, and God's providence—which was especially comforting to believers.
"The teaching on God's providence has encouraged me to have hope of life during this pandemic," said one pastor.
A retired bishop also contacted the team to share that it was the first time he had heard good teaching about God's providence. He plans to preach about it in churches where he ministers.
"It is a great encouragement to us when we see Christians experiencing great joy at finally understanding aspects of the Christian faith or specific Bible passages that have confused them for years," said Sytsma.
And while the radio program focuses on teaching people who are already Christians, Sytsma and the team are amazed at the number of people who have come to know Christ.
One day, a woman contacted the team. Her father struggled with alcoholism and her mother was religious but didn't personally know God's love and grace. She, too, was raised to be religious but didn't have a relationship with God. Listening to the radio program, however, gave her hope.
When she contacted the team, Moses, one of the translators for the program, talked and prayed with her. He asked her if she wanted to accept Christ as her Savior, and she said, "Yes." Her mother has also accepted Christ. As the team does for all new believers through the program, they worked to make sure the woman and her family were connected with a local church and ministry leader.
"I am continually inspired and encouraged by my team members," said Sytsma. "They are passionate and gifted evangelists who never fail to share the good news of the gospel with people who call in with questions or to ask for prayer."