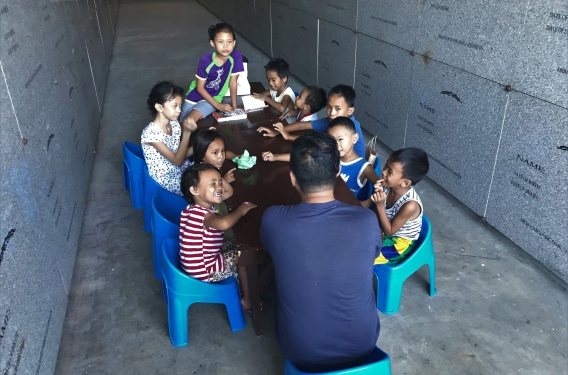 "[God] wants to bring the good news to every people and bring hope and love to everyone," said Carl, a student in Resonate missionary Stan Kruis's church-planting class at Asia Theological Seminary in the Philippines.
That's why Carl and his classmates spent a day at a church plant in a cemetery.
A Church Plant in a Cemetery
Many of the cemetery's maintenance workers struggle to make ends meet. They live near the cemetery with their families in makeshift houses roofed with scavenged materials—corrugated iron, bamboo, palm leaves. One family uses an upside-down casket as a bed. Noticing the families' spiritual needs too, a cemetery administrator started a church that has been slowly growing.
Hands-On Leadership Experience
Stan and his coteacher Katherine wanted their students to get practical experience sharing the gospel, so they brought Carl and his classmates to visit with the church-plant families at the cemetery and to share stories from the Bible. The students connected with children and teenagers and led worship for the community.
"I was impressed with my students' zeal in evangelizing," said Stan. "A number of adults and youths prayed to receive Christ."
And while Carl was spending time with the families and reading Bible stories to children, the Holy Spirit spoke to him.
An Urgency to Share the Gospel
"I reflected on the brevity of life and that we are all going to die," said Carl. He had read Psalm 30:9 in his devotions that morning before doing outreach: "What is gained if I am silenced, if I go down to the pit? Will the dust praise you? Will it proclaim your faithfulness?"
"It implies the dead can no longer praise the Lord and declare his goodness, so we should live and invest our lives for God and proclaim his Word to all people," said Carl. "It is a reminder also that as time passes by, it is important to seize every opportunity to share the gospel of Christ and the hope that he gives."
Thank you for supporting Resonate missionaries like Stan Kruis who work hard to develop mission-minded leaders. It's because of you that students like Carl can successfully join God in kingdom work.
"It is such a blessing that I was able to join and participate in this activity," said Carl. "Regardless of the place, even if it is an unlikely place like a cemetery, God can move and work."