You might already know that many missionaries teach language classes in order to meet and connect with people in their communities. But you might not know how well this opportunity works. Language learning has turned out to be a lifeline for Yaran, who recently arrived in Berlin, Germany.
Yaran's story goes like this: mission-minded donors like you sent missionaries to Berlin, and Yaran came into contact with the life-changing power of Jesus. But that's only the beginning—and that's why your continuing support for Resonate is so important.
We don't know much about Yaran's background. We know he's Yazidi, a religious minority group from eastern Turkey. His status as a refugee in Germany tells us that his life has not been easy. We know he's not a Christian.
Resonate missionaries David Kromminga and Mary Buteyn first met Yaran at the language cafe they run at their church in Berlin. They call it Sprachcafe ("Language Cafe"), and it is key for connecting with newcomers and helping them connect to Christ and his church.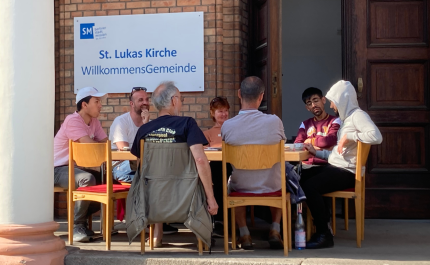 That's what David and Mary are focused on—sharing the good news with the unprecedented wave of immigrants arriving in Germany. Working with a core group of committed Christians, they run a church and host outreach programs like Sprachcafe, dinners, and discipleship courses. Your support for their ministry is having a lasting impact as groups organize and establish their own congregations through this ministry!
But for Yaran, this is only the beginning. Yaran needs continuing support from your missionaries and from you, his church family. And many others like Yaran are depending on you in more than 40 countries worldwide where your missionaries are serving.
In a season when we look back on all the things God has done for us, take a moment to look forward to what more God can do through you. Will you please make a gift to support living and sharing the gospel together?