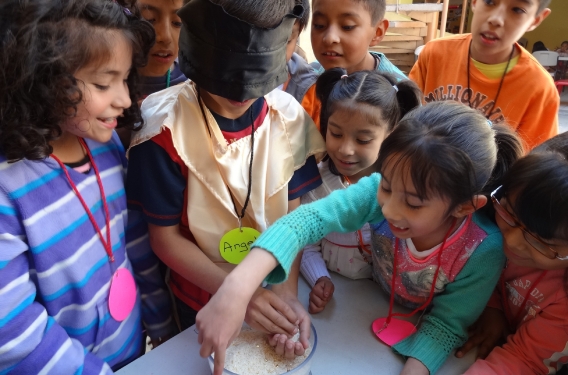 Blanca Gifford remembers the first time she met Carmen (name changed).
"She was just nine years old then, and I had recently started a kids club ministry at our church," recalls Blanca, who serves along with her husband, Dave, as a missionary with Resonate Global Mission. "Her dad came with her and her brother. He said he wanted his kids to experience something spiritual, but their mom was resistant to talking about Christ in their home."
As Carmen grew up, she continued to enjoy the neighborhood kids club—a quick learner who was always asking thoughtful questions about the Bible stories she was hearing and gaining new skills. But more importantly, she was coming to be loved.
"About 90 percent of the kids come from unchurched, dysfunctional families," says Blanca. "They come to the clubs to be loved when they don't get that at home. Something as simple as a hug or reading the Bible with them goes a long way."
Then in 2014, Carmen's life turned upside down. Her father became sick and passed away before she could even visit him in the hospital. What's more, she also lost her grandmother a month later.
It's been hard for Carmen ever since that time. She often feels confused and upset with God, and at times has fallen into deep depression. Still, Carmen knew that she had someone she could trust.
"Carmen has been very open to talking to me about her struggles," said Blanca. "I think she sees me as a mother figure, calling me with problems and asking me for advice."
One particularly hard day, Carmen came to Blanca in tears because her best friend was angry with her.
"I told her that the Lord knows her struggles and He cares for her friendship," says Blanca. "We prayed every day and that gave her faith that the Lord would help in this situation."
A week later, Blanca received a call from Carmen while she was at school—her prayers had been answered. Her friend even began attending kids club a few times!
Today Carmen is one of several young people who have technically outgrown the age range for the kids club. Still, she and the others want to keep learning and Blanca has found special opportunities for them to help with the ministry. For Carmen, that's cooking.
"Carmen became my youngest student in my cooking class and to this day she loves cooking, enthusiastically helping me decorate my cakes for events and writing down lists of ingredients she needs."
Time spent cooking and helping with other tasks gives Blanca the opportunity to continue counseling Carmen on the difficult issues she faces. Blanca also connected with Carmen's mom, encouraging her to find a counselor for her daughter and consoling her in the loss of her husband as well.  
"Carmen can be very happy at times," says Blanca. "But she still has those moments where she feels that she's alone in the world. We are grateful for the opportunity to make a difference in the lives of people like Carmen, and ask you to pray for her and for all of our friends in Mexico."
Thank you! When Carmen's father wanted his daughter to experience Christ's love, you were there for them. Your support and prayers for missionaries and ministries of Resonate make a huge difference in the lives of people like Carmen. Thank you for sending Dave and Blanca Gifford, as well as many others who share Christ's love around the world.