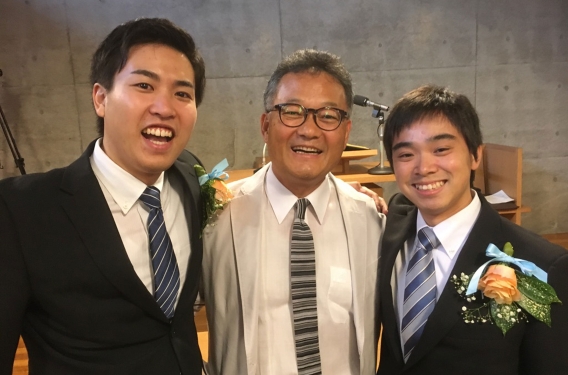 Just like Jonah, God called Ken Lee to a place where he didn't want to go. Now, he's more passionate than ever to live into his calling and proclaim the gospel.
Ken Lee and his wife, Jeannie, are Resonate missionaries serving with Reformed churches in Japan. With only about 1% of Japan's population claiming to be Christian, Ken teaches and empowers Japanese young adults to live out their faith in one of the most unreached countries in the world.
Two years after receiving a call to become a missionary, God called Ken to seminary. He was nervous, but God reassured him.
"I heard this voice saying: 'It's OK, I will take care of you,'" Ken said. "Now that I think about it, God has led me to Japanese culture and Japanese people throughout my life."
But Ken did not always recognize this calling. In fact, he was incredibly resistant to go to Japan.
"I was like Jonah—an unwilling missionary to Japan."
Born in Korea, which was occupied by Japan until 1945, Ken learned from a young age to be wary of Japan."[Japanese people] had done nothing to me, but it's just the way I was educated and I really did not want to go there."
But when Ken's pastor at Orange Korean Christian Reformed Church in Fullerton, California, asked him to go on a short-term mission trip to Japan in 1996, Ken went, albeit reluctantly.
"Even when I was there, I was just like Jonah. I was complaining to God, 'Why did you send me here?'"
But while leading worship at a young adult retreat, Ken noticed a young woman who looked deeply moved. At the end of the program she approached Ken.
"Pastor Ken," she said. "I'm sorry. The Korean people always bring good things to the Japanese, but our forefathers had done bad things to you. I am sorry and I want to apologize."
"And she really meant it," Ken said.
The last words she said to him were: "Pastor Ken, please come back. We need you."
"I didn't know why I did not want to go to Japan, but at that moment, God made me realize there was a hatred within me," Ken said. "So I just ran out and cried and repented. Now I love them. I love these people. "
Ken returned to the United States and prayed as he tried to discern God's call. "I came home and was trying to decide where God wanted me to go. As I was praying, like Paul receiving a vision of a man standing and begging him, 'Come over to Macedonia and help us' (Acts 16:9), her face just popped up to me, saying 'please come to Japan.'"
Ken was ordained and commissioned on August 15, the anniversary date of Korea's freedom from Japanese occupation.
"That's another reason that made me assured that Japan's the right place," Ken said.
Looking back, Ken can see God's hand in every aspect of his life and calling.
"Along the way, God showed me these signs saying that what I'm doing is OK," says Ken. "Without those assurances of calling, I don't think I would've stayed. I probably would have given up. But I've been [in Japan] for 19 years now."
Delighted by God's leading in his life, Ken wants to help others who are considering going into missions.
"For others who are desiring or going into a mission field, my advice is make sure you have the calling," he notes. "To me, that's very important, because without that calling I think I would've left a long time ago."
We thank God that Ken answered his call to serve and love the people of Japan. Thank you for supporting Resonate missionaries like Ken. God is at work in this world! All the praise to him.
A version of this story was originally published by The Banner.
Donate Now
US Dollar Donation Form
Donate in Canadian Dollars