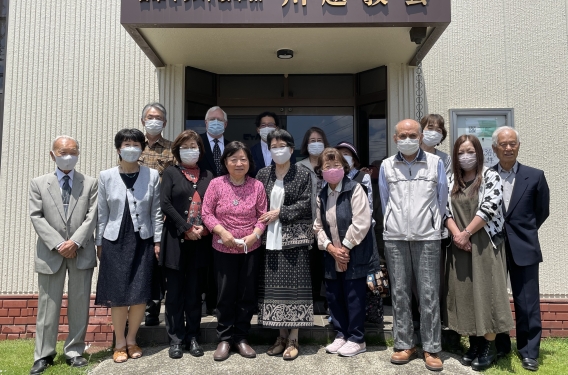 Yamato was in his late 70s when he first became interested in learning more about Christ. You helped to make that possible.
One of the Largest Unreached People Groups
Yamato lives in Japan, home to one of the largest unreached people groups in the world. Less than one percent of Japan's population identifies as Christian. Nobody in Yamato's family was a Christian.
But during the coronavirus pandemic, Yamato started to question the truth and the purpose of life. He became interested in Christianity and started attending one of the churches where your Resonate missionary Larry Spalink serves. Your support makes it possible for Larry to work alongside this church and equip them for mission. He also preaches regularly.
When Larry first met Yamato, Yamato was reserved.
"He was always very shy, and his face always seemed to be downcast. He would not make eye contact, and he would rarely smile," said Larry. "[His shyness] was partly, maybe even largely, a part of Japanese modesty. He was an outsider, so it would be natural for him to be reserved. In fact, it takes a great deal of courage to step into a church group! Just attending is a sign that God's Spirit is drawing someone in!"
Learning about the Resurrection and the Life
Yamato would leave immediately after the worship service—but he rarely skipped the weekly gathering.
"In the couple of years when he was a seeker, he hardly ever missed a Sunday, even though Covid-19 was raging and he, as an elderly person, was in a high-risk category," said Larry. 
Week after week, because of your support, Yamato heard the gospel from Larry and the pastor of the church. Yamato learned more about Jesus as the "resurrection and the life." Eventually, he started to linger after worship and to help with group activities, including cleaning up.
Once, as Yamato was leaving, Larry stopped to talk with him.
"Would you be interested in being baptized?"
Yamato only smiled. He didn't say yes.
But he didn't say no.
Choosing Baptism in Christ
Yamato did want to be baptized, and he started talking with the pastor of the church about how to prepare for baptism. He wanted to understand exactly what he was committing to and why. He wanted to be certain of his decision to place his trust and faith in Christ.
"Over the months of hearing the Word, the Spirit was drawing him closer," said Larry.
And one Sunday, Yamato publicly confessed his faith in Christ and was baptized. Larry said Yamato's countenance completely changed! 
"I was waiting in the foyer to greet worshipers, and there he was—a smile beaming from his face like I had never seen before," said Larry.
Thank you for your support of Resonate's ministry in Japan! Yamato recently celebrated his 80th birthday. It's never too late for people to hear the gospel, said Larry. In fact, Japan's population is aging, and it's important that more people hear the good news. Thank you for helping to make this ministry possible.
*Yamato's name has been changed for privacy