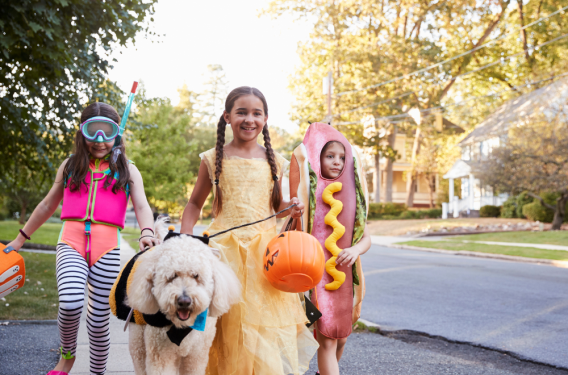 There are a lot of opportunities to share the love of Christ with our neighbors on Halloween! Here are some ideas to get you started.
Halloween is the night when the whole neighborhood comes out and meets and greets one another! How will you be present, listening, discerning and joining in? Asking and responding to these questions can help us discover and participate in what God might already be up to in our neighborhoods where we have been sent to remain (Luke 10).
Who will you 'boo'? 

All ages can enjoy surprising their neighbors and seeing "We've been booed" signs on windows and doors as the treats spread through 'this pay-it-forward' fun. Check out, participate in or initiate this neighborly 'boo'ing' practice on your street. If you do an online search, you will find many examples and free printables. Here's one:

https://www.happinessishomemade.net/download-success-printable/

How will you be 'THAT great house' that all the kids talk about? 

E.g.

That

gives out the best candy… has the 'monster mash' playing. 

After all, Jesus' followers practice generosity. (2 Cor.9:6, 10-12; 1 Tim 6:18)

How will you create a 'stop' for trick-or-treaters and their parents, a place where neighbors can linger and connect?

 

E.g. have a campfire out front, set up some chairs, serve hot apple cider…

What will you STOP doing?

 

E.g. Dressing up your kid as Martin Luther; giving out tracts instead of treats?

 How will you meet, greet and encourage neighbors? 

E.g. Introduce yourself at the door; compliment costumes; ask questions such as where do you live in the neighborhood, how long have you lived here, where are you from, etc.

 

You might want to be prepared to share your contact info too…

How will you catalyze the 'party' like Jesus? (Matthew 9:9,10; Mark 2:14-17)

 

Let's get together…how about appetizers on Saturday? 

E.g. Host with another neighbor; share food and drinks; stay and clean up…

How will you participate in community events?

 

E.g. The pumpkin carving contest, the harvest fair. Or t

he food bank collection or the

Socktober

initiative.

How have/will you be attentive to the Spirit and your neighbors?

 

E.g. Pray and discern as you remain and first share peace (Luke 10:5,6).
Want to learn more about sharing the gospel with neighbors? That's what Resonate's Go Local is all about! Learn more at www.resonateglobalmission.org/golocal
Written by Karen Wilk, Resonate Global Mission's Go Local Catalyzer