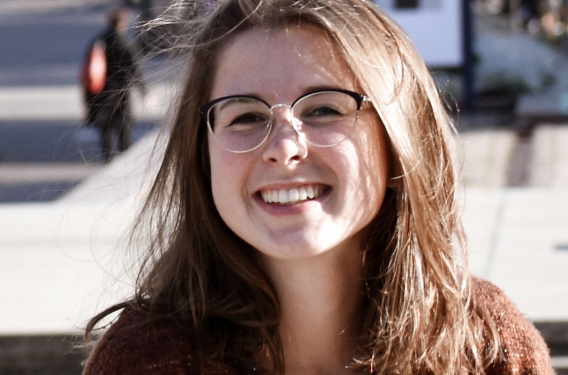 Albina accepted Christ when she was eight years old, but when she enrolled at Resonate Global Mission partner LCC International University in Lithuania ten years later, she discovered that she could have a deep relationship with Jesus. She committed to following him wholeheartedly.
Practicing Religion
Albina grew up in a Christian Orthodox home. Two or three times a year, she and her family would go to church in their small Ukrainian town.
"It was mostly a religion or cultural thing rather than a relationship with the living God," said Albina.
When Albina was eight-years-old, her aunt asked her if she wanted to pray and ask Jesus into her heart. Believing that Jesus was good, Albina said "yes."
"You're a Christian now," her aunt told her. "Read your Bible and pray."
"So I did that," said Albina.
But ten years later, God called Albina to deeper faith. When she started studying at LCC International University in Lithuania, God showed her that faith wasn't only about the discipline of going to church, praying, and reading her Bible. God showed Albina that she could have a relationship with him.
A New Community and Lifestyle
Albina was immersed in a new lifestyle at LCC, where Resonate missionaries work hard alongside other faculty and staff to support and encourage an environment where students can grow in their relationships with God. Students, faculty, and staff gather regularly for chapel, Bible studies, and times of worship, and Albina joined them.
She also became close friends with girls who went to church every week. One week, she decided to go to church with them and felt the Holy Spirit's presence in a way she never had before.
"I was so overwhelmed to the point of crying," said Albina. "I thought: This is so good. This is what I wanted to experience."
Albina grew a lot during her first year at LCC, but when she went home to Ukraine for four months of summer break, she was a little nervous to be away from her friends and the supportive LCC community. 
"I think [God] wanted to take this time to develop in me a passion for him," said Albina. "Not just for the exciting new things I could find in church, but just for a relationship with him."
Making a Decision for Christ
During those four months, Albina constantly asked herself how her friends from LCC would be spending their time. She asked herself what they would say or do in certain situations. 
"Honestly, I was annoyed at one point," said Albina. "I don't want to think about what [they] would do. I just want to know my own person and what Jesus would do. I was jealous to learn the Word at that point."
She started reading the Bible, but also books written by Christians. While she was reading Crazy Love by Francis Chan, God spoke to her heart through a specific passage:
Jesus didn't say if you wanted to follow him, you could do it in a lukewarm manner.
He said take up your cross and follow me.
"I understood that I had to make a decision," said Albina. "I could not just think about it … I understood that the truth was revealed to me, and I had to either accept or deny it. I decided, just like I had ten years before, let's do it. Let's do it for real. I want to make this Christian walk my own walk and I want to live it out whatever the cost."
Committed to Christ
Albina said that she's learning more every day about what it means to commit her life to Christ. Some days are harder than others, she said, but she feels like God gave her a new passion.
"I really felt the difference in the way that I wanted to spend time with God, and I wanted to love other people," she said.
Praise God for bringing Albina into a deeper relationship with him through the LCC community that you support through Resonate! Please pray for students like Albina, who are owning their faith and becoming passionate about following Jesus.