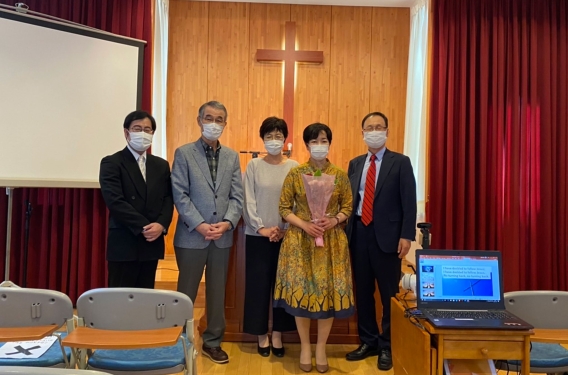 Mrs. Noguchi was searching for "something true." When the Holy Spirit led her to a church one day, you were there for her.
Feeling a Little Empty
Mrs. Noguchi was raised in a neighborhood of Tokyo, Japan. Her parents were Christians, and so was her sister. She attended and graduated from a Christian school, but she wasn't interested in faith.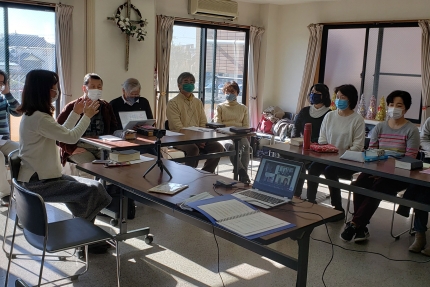 "I think I had been influenced by people around me, books I read, and Japanese society which is atheistic," she said. "I had thought religions including Christianity were a kind of philosophy. For me, Jesus was just one of the famous persons in history."
But as the years passed, Mrs. Noguchi started to feel restless and empty. 
"I was often feeling the futility of life," she said.
Searching for Meaning
Mrs. Noguchi wondered if there was something more to life than the monotony of her day-to-day routines, and she started searching for something to guide her in life. When her mother passed away in the spring of 2020, the grief devastated her and left her with a lot of questions.
"I think my mother's death changed me," said Mrs. Noguchi. "I was worried whether she could go to heaven. But one day, an idea came to my mind. . . .  It was my mother that worried about my salvation."
"Your prayers and support are deeply appreciated. In the midst of this pandemic, the churches where we work together have had more baptisms than before."
Mrs. Noguchi cannot explain exactly what happened, but one Sunday she was feeling sad and decided to find a church. She walked through the doors of Hikarigaoka Christ Church. That's where she met your Resonate missionaries Jeong and MiSook Gho. 
Through Resonate, you partner with Jeong and MiSook to equip, support, and develop Christian leaders in Japan. The Ghos work alongside and visit several churches to preach the gospel, disciple new Christians, and equip believers for mission and church leadership. That Sunday during worship, Mrs. Noguchi found a glimmer of hope, and she held fast to it. She returned to worship again and again, and she also joined one of the Ghos' Bible studies.
Living a Life with Christ
Day by day, her life started to change. She built relationships with your missionaries, the members of her Bible study group, and the pastor and believers of her faith community. She dove into Scripture to study the Word, and she spent a lot of time praying. 
Mrs. Noguchi knew she had finally found the truth—and one day she decided to follow Christ. In November 2021 she was baptized!
"I want to know about Christ and God deeply," said Mrs. Noguchi. "These are the things that I had never expected before!"
Thank you for supporting this important ministry through Resonate! You're helping to strengthen believers in a country where so many people do not yet know the truth of Christ.
"Your prayers and support are deeply appreciated," said the Ghos. "In the midst of this pandemic, the churches where we work together have had more baptisms than before."