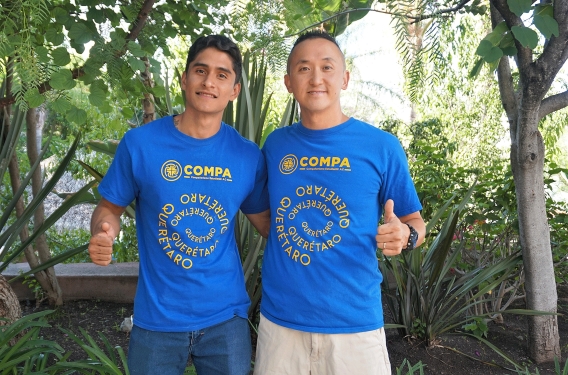 Abraham wanted to escape his life as a gang member. So, he moved to Querétaro, where he met Resonate missionaries you support.
"I was in the wrong place at the wrong time," said Abraham.
Abraham grew up in Chihuahua, Mexico, where many young people get swept up into gangs. That's exactly what happened to Abraham. One of his friends invited him to a party, and he started hanging out with gang members.
But Abraham felt unhappy and unsettled. He cherished his friends, but they often did and dealt drugs, and Abraham wasn't interested in that lifestyle. When his high school wouldn't let him participate at his graduation, he knew he needed to change something.
"He sensed that if he stayed longer in Chihuahua, he would have a tough time. He might even be killed. He wanted to escape from that situation," said James Lee, your Resonate missionary.
At the time, Abraham didn't know God. Looking back, however, he says he can see that God was protecting him and drawing him into a relationship with Christ.
You were part of Abraham's journey.
Looking for a Fresh Start
Seemingly out of the blue, Abraham's aunt called him. She and her family lived in Querétaro, where you sent Resonate missionaries James and Barbarita Lee to serve. Abraham's cousin has a disability that requires constant care, so his aunt asked Abraham to move in with them and help. In exchange, she would pay for Abraham to attend college.
It didn't take long for Abraham to say "yes." He packed his bags and moved. But even though he wanted to start afresh, it was a tough transition. Abraham missed his family and friends. He was lonely. Had he made a mistake by moving?
He sensed that if he stayed longer in Chihuahua, he would have a tough time. He might even be killed. He wanted to escape from that situation.
"He felt emptiness," said James.
But one day as Abraham was lifting weights in a local gym, he heard music coming from upstairs. Curious, he followed the beat and found a church that rented the space above the gym. It happened to be the church where James and Barbarita and their family worship.
Experiencing Resistance
Abraham had grown up in a Christian family and had often attended church—but mainly only to make his parents happy. He said he had never had a personal relationship with Jesus—he didn't really know what that meant. More and more, Abraham found himself wondering if he was missing something in life. He wondered what a relationship with God would look like. He wanted to attend church.
But when Abraham mentioned to his aunt and uncle that he wanted to start worshiping at the church he had found, his aunt said no. Her family wasn't religious, and they thought church would be "a waste of time" for Abraham.
"Better to spend the time studying for school," she told him.
I need Jesus in my life, and I want to know him more.
He wouldn't attend church without her blessing, so he continued focusing on his studies and caring for his cousin. Every once in a while, though, he would bring up the topic of going to the church. After a few weeks, Abraham's aunt and uncle eventually agreed.
One morning during worship, James had the opportunity to share about a ministry you support through Resonate. James is a leader with Compa, a campus ministry in Querétaro through which you provide discipleship for young adults. Abraham was interested in getting involved, so he approached James.
"I need Jesus in my life, and I want to know him more," Abraham told James.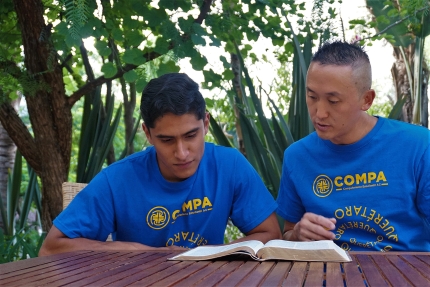 You're Equipping a Leader
Because of mission-minded donors like you, the Lees are able to serve in Mexico, and your support made it possible for James to be there for Abraham. Ever since their first encounter, James and Abraham have gotten together every week for discipleship, fellowship, and counseling. They meet at the Lees' house, and Abraham often stays for dinner and plays games with the Lees' kids.
Abraham has become part of our family. I call him my spiritual son.
Abraham has also grown deeply in his love for Christ. He is passionate about sharing his faith with students on his campus, and he often leads Bible studies, prayer, and games through Compa. He has even started helping James mentor and disciple students! After he graduates in December this year, Abraham plans to volunteer part-time with Compa, and he is considering stepping into ministry full-time.
"He has a servant heart," said James. "He's constantly asking, 'What can I do to help you?' He'll call other students and encourage them by sharing God's Word. His deepest desire is to follow Christ."
Thank you for helping to make a difference in Abraham's life! God worked through your support to provide an encouraging mentor for Abraham to strengthen him in his walk with Christ. Please pray for Abraham as he continues to grow as a disciple and to follow the Holy Spirit's leading.