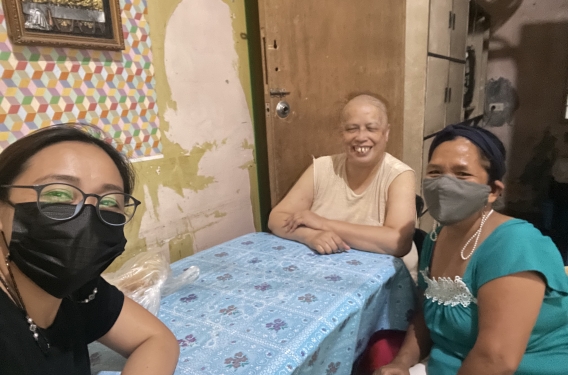 Your Resonate Global Mission missionaries Charles and Hensel Oh have an urgent prayer request for you.
Struggling with a critical illness, Emily was living without hope. That changed one day when your Resonate missionary Hensel shared the gospel with her.
A Prompting from the Holy Spirit
Hensel and Charles work with Christian leaders and share the gospel in Manila, the bustling capital of the Philippines. They often prayerwalk their barangay—their neighborhood. One day, while Hensel was visiting children in one of the poorer neighborhoods, she remembered that her aunt's former high school classmate, Emily, lived nearby.
Emily is a 53-year-old single woman. She was born blind in her left eye. When she was in her forties, she lost her vision entirely. Emily makes ends meet by working as a massage therapist. She is kind and generous. While her house is unfinished and not very large, she has opened her home to Lucy, who has grieved the death of two husbands. Lucy and her seven children live with Emily rent-free and assist her with daily tasks
All I kept telling myself was that she had to hear the good news and know that in her fight she was not alone.
Daily life has been more difficult for Emily lately. A couple of years ago, she was diagnosed with breast cancer and the tumor has slowly grown larger and more painful.
"Without being able to pay for medical treatment, she finally, reluctantly, reached out to her high school friends, who in turn started a fundraising drive for her," said Hensel.
That's how Hensel first heard about Emily from her aunt. And thinking of Emily that day while walking in her neighborhood, Hensel took it as a prompting from the Holy Spirit. She knew she needed to visit Emily.
"I could not stop imagining what life would be like having a serious critical illness, alone, blind, but even more so with no hope of not knowing Jesus," said Hensel. "All I kept telling myself was that she had to hear the good news and know that in her fight she was not alone."
Hearing the Good News
A few days later, your missionary embarked on the two-hour trek to Emily's house—a trip that required the metro, a jeepney bus and a motorcycle taxi. But when Hensel arrived, she was warmly welcomed by Emily and Lucy.
"I visited Emily hoping that aside from the small donation I gave for her fundraising needs, I could also share something that has eternal worth—the hope we have in Jesus Christ," said Hensel.
I am trusting God that my life is in his hands.
Hensel prayed with Emily for healing. And after talking with Emily and Lucy and hearing their stories, heartache, and challenges, Hensel shared the gospel with them. Hensel said that, like many Filipinos, Emily and Lucy had heard the name of Jesus before—but they had never known personally who Jesus is and what he had done for them.
They were amazed by the story of God's radical love for them and all creation. Both Emily and Lucy decided to follow Christ.
Praising God
The next day, Emily texted Hensel and said that she could not stop praising God!
"The three of us could not help but be amazed at how God works, making it possible that we could meet that day," said Hensel.
Knowing Jesus has provided comfort for Emily in her pain and grief. Emily's cancer has recently progressed to stage 4, and she's been hospitalized. She's in a lot of pain.
Hensel continues to meet with Emily and pray with her. She recently asked Emily if she was angry or bitter at God. Emily said no.
"I am not angry at God," she said. "I am happy that I know he is always with me and I have hope, even my situation is like this. I am trusting God that my life is in his hands."
Thank you for partnering with Resonate missionaries like Hensel and Charles in their ministry! You help make it possible for people like Emily to discover the hope of the gospel, but your missionaries are praying for her physical healing. Will you please pray for God to heal Emily?