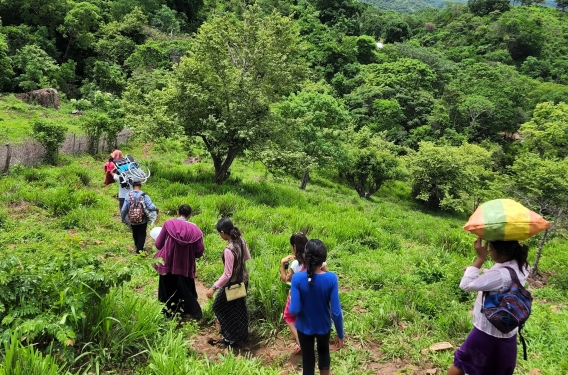 Maria needs a wheelchair to move around—but she didn't have one. Your Resonate Global Mission missionaries Jairo and Kelly Solano were able to work with a local church to help provide a wheelchair for Maria and meet other needs.
Isolated, Hungry, and Alone
Maria lives with her granddaughter Selena in a small home in the mountains of Nicaragua. The walls are unstable. There are no doors or windows. Rocks and heavy logs rest on the roof to help keep the rusting corrugated metal sheets in place.
"Their house is in a very precarious condition, which becomes a serious issue, especially during the eight months of the rainy season," said Jairo.
The two have trouble providing for themselves. Maria lost her ability to walk about thirty years ago. She has visited doctors several times, but the doctors aren't sure what caused her illness, and they don't have a cure. Maria believes her condition is from a voodoo curse someone placed on her.
Now in her mid-sixties, Maria lives with her twenty-year-old granddaughter, Selena. Selena's father—Maria's son—died a number of years ago. Selena is deaf and doesn't speak, so she has trouble finding work. But she spends her days caring for Maria.
The only access Maria and Selena have to food is through Maria's son, José, who lives on the other side of the mountain. He works on farms, but the income is hardly enough to provide for him, his wife, and his three children. He gives what he can to his mother and niece, but there's simply not enough food for everyone.
Most of the time, Maria and Selena live isolated and alone. Their house can only be accessed by foot. It takes about an hour and a half to walk from their house to a paved road, and then there's the long bus ride into town.
"They don't have any community support system close to them," said Jairo.
So, the community came to them.
Community In Action
Recently, José learned about a church that helps meet needs in the community. It was the church that Jairo helped to start a number of years ago. One day, José walked into town and asked for help for his mother and niece—he asked for food and a wheelchair.
Members of the church sprang into action. They gathered food from their own home—beans, plantains, bananas, milk and bread.
But where would they find a wheelchair?
Because of support from donors like you, Resonate already has a strong network of missionaries and ministry partners in Nicaragua—including a ministry center dedicated to helping those who live with disabilities. The ministry is called Tesoros de Dios. Kelly called Vinnie Adams, a Resonate missionary who works with Tesoros de Dios.
The ministry had a wheelchair for Maria.
Testifying to God's Goodness
Jairo and a few members of the church loaded up his truck with the wheelchair and supplies. They drove as far as the path could take them and then they gathered the belongings and hiked in the supplies over a stream and up the mountainside to Maria and Selena.
Jairo and the group gifted the wheelchair and food to Maria and Selena—they were grateful and overjoyed! They also spent time talking, reading the Bible together, and praying for healing.
"I am humbled and overwhelmed at God's goodness … God orchestrated this act of love for a woman who has spent the last 30 years of her life in bondage," said Kelly.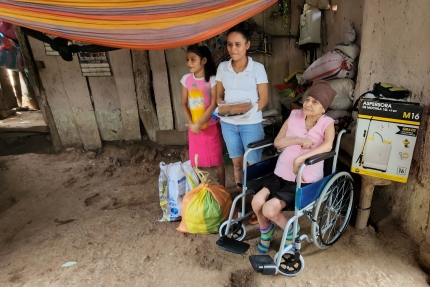 Continuing to Witness
Jairo and the members of the church returned home back down the mountain, but Jairo will be back to continue sharing the gospel with Maria and Selena.
"They believe in God … however, as many people in Nicaragua, their belief and faith is mostly an inherited tradition. They don't have a close relationship with Christ and a solid Bible-based doctrine," said Jairo.
"Our goal is to continue to witness to them, so that through regular monthly visits, we may share our faith, share what the Lord has done in our lives, offer prayer, encouragement, bring any aid we can put together for them, and walk with them through their needs."
Thank you for sending and supporting Resonate missionaries in Nicaragua and throughout the world! You help make it possible for missionaries like Jairo, Kelly, and Vinnie to work with their communities and respond to needs.
Will you please pray for Maria and Selena? Pray for healing for Maria. Ask for provision for food, medical care, and safe and secure housing. Pray that God will continue working through Jairo and the members of the church