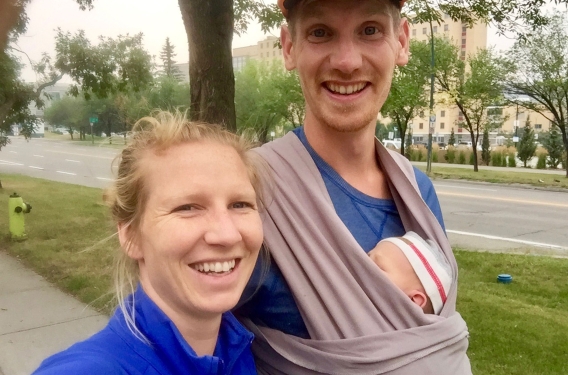 What happens when you're more aware of how the Holy Spirit is working in your neighborhood?
One day, Jander and Tiffany strapped their two-week-old son in a baby carrier and went for a walk in their Calgary, Alberta, neighborhood. That's when Jander noticed an apple tree in someone's yard. It reminded Jander of his childhood home.
"We went to the door, and I was just going to ask if we could grab some apples. There were a bunch just sitting on the ground," said Jander. 
Looking back, Jander can see how the Holy Spirit was at work.
On Mission to Care for Neighbors
Jander and Tiffany, members of Maranatha CRC, joined the church's Go Local cohort. A Resonate initiative, Go Local is an opportunity for believers to be intentional about stepping beyond the walls of their church buildings and homes to discern where and how God is working in their neighborhoods. 
Being present in their neighborhood was important to Jander and Tiffany. "We just wanted to learn how to soak up what was in front of us," said Jander. "People around us need to be loved, just like us."
The couple lives in a quiet neighborhood where they don't often see their neighbors. Fences surround backyards and people park in garages or alleys behind their homes. But the day that Jander and Tiffany noticed the apple tree, they met someone who would soon become a friend.
Knocking on a Door
When Jander and Tiffany rang the doorbell, they were greeted by an elderly man named Roger*. Later, they would learn that Roger was a widower of five years and living far away from his daughter, but at the time, all Jander and Tiffany knew was that Roger was enamored with their newborn. Talking about their son was an easy ice-breaker.
As they talked, Jander mentioned the tree in Roger's yard. Without hesitating, Roger reached behind his door and handed them a bag full of apples he had gathered that morning.
That night, Jander brought over an apple cake for Roger as a way to say thank you, and their friendship has only grown since then. They visit with one another several times each week; Jander and Tiffany picked up groceries for Roger when he needed it and help him with his lawn; and Jander said Roger is incredibly generous—even gifting the couple's son with a spring horse that he fixed up.
But it was in talking with the Go Local cohort at their church that Jander said he became more aware of how the Holy Spirit was at work in the couple's friendship with Roger. 
"The opportunity to reflect on it and talk about it is I think the most important part of [Go Local]," said Jander. "When you say something and someone else says, 'Well, Jander that's not random.'"
The Holy Spirit's Nudging
The couple's son calls Roger "Rah Rah." 
"There are times when he would say 'Rah Rah' with no context—while we were out in the yard, or out on a run, or in the car—oftentimes, our visits would be prompted by [our son] asking for Roger," said Jander. "We noticed a couple of times when we visited, Roger would say 'this is just the most amazing time' or 'this is exactly what I needed.'"
Now, anytime Jander and Tiffany's son says "Rah Rah," the couple will stop what they're doing and visit Roger or pray for him. "It's not 'we'll go visit him later,'" said Jander. "It's 'we'll go visit him now.' I see it as a prompting, a nudging."
The relationship with Roger isn't always easy or convenient for any of them, but Jander said he always feels gratitude after seeing Roger. "I feel full afterward," said Jander. "Like a conversation with a good friend."
Witnessing God at Work
Forming relationships with neighbors—and recognizing how the Holy Spirit is at work through those relationships—is what Go Local is all about, said Karen Wilk, a Resonate Go Local catalyzer.
"We discover God at work in our neighborhoods and the world," said Karen. "The church is not equivalent to a church building and what goes on in that facility. It looks like God's people hanging out in their neighborhoods, with their neighbors, as neighbors … and in so doing, learning what it means to love God and their neighbors."
"My view of the Holy Spirit has definitely grown and it's not just through this," said Jander. "It's not just in my neighborhood … but the realization that the Holy Spirit is working everywhere."
Following the Holy Spirit is an important part of joining God on mission. Go Local is a great opportunity for you or your church to discover what it means to join God on mission right outside your door. You can learn more about joining Go Local and starting a cohort in your church here. 
*Name has been changed for privacy
A version of this story was originally published by Christian Courier