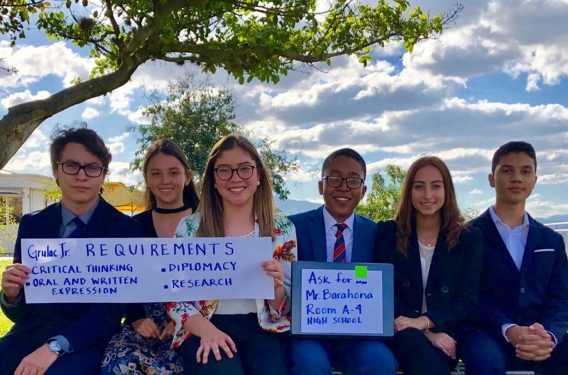 Students at International School Tegucigalpa (IST), a Resonate Global Mission ministry partner in Honduras, have started a recycling campaign that's reaching their school, community, and beyond.
A Need to Care for God's Creation
In Honduras, just as in many places throughout the world, not everyone recycles. Many people who do not recycle may have never been taught about the effects on the environment, or they don't have easy access to disposing of trash or recyclables. 
"It is very common to see people throwing [trash] from a car window," said Rómulo Barahona, a social sciences teacher at IST. "Many people throw [trash] in the rivers and don't care about the pollution they're making. Even though the mayor's rule is to collect trash one day per week, people throw it on the street and don't follow the rules."
Rómulo said that the rivers, streets, and green areas are all full of trash. People also burn trash, which creates pollution and smoke that could cause disease.
But then in 2015, Rómulo was invited to an event for Grulac Junior in Colombia that focused on empowering high school students who were passionate about climate change. He saw an opportunity to empower students to make a meaningful change in their community, and he immediately started a partnership between IST and Grulac Junior.
Equipping Students for Leadership
Grulac Junior is made up of diverse students from schools throughout a region and promotes dialogue about climate change and sustainable development. "Grulac" means "Group of Latin America and the Caribbean" and "Junior" is added because it's a group of passionate young people—but these young people are taking on big responsibilities. Through Grulac Junior, students are equipped and trained with knowledge, skills, and awareness so they can take action and mobilize their community.
Students and faculty at IST are using this campaign as a way to aid organizations focused on caring for the climate and raising awareness in their community. It's one of the many ways that IST students put their faith into action. 
"We decided to integrate this kind of project because we are a Christ-centered school and taking care of our planet is part of our responsibility according to God's Word," said Rómulo.
The students involved with Grulac Junior are partnering with teachers from IST's science department and another student club called Interact, who collect all plastic bottles for recycling. 
Working together, IST students are leading a campaign to create awareness about the environment among students, teachers, and parents. They have started recycling things like paper, aluminum,and plastic and the school no longer uses plastic or straws in the cafeteria. 
"Our main goal is to create awareness and contribute to the objectives of sustainable development from the United Nations," said Rómulo. "We want to reduce the pollution process and be an example for our future generations."
Hannah Damsteegt, a Resonate missionary who teaches at IST, is excited about how this campaign is influencing her students and their faith. 
"As a teacher, I am proud to see how well my students are reacting to the campaign. They bring in plastic materials from their homes to be recycled and love to find plastic bottles on the ground around campus so that they can be recycled," said Hannah.
"We are called to be stewards of God's creation. This recycling campaign is one small way that IST can help take care of the world around them," Hannah added.
Resonating Effects
Every year, the students of IST have received special recognition at the Grulac Junior meeting in Columbia. They are acknowledged for their successful work on their campaign in their school and community.
But these students leaders of Grulac Junior also have influence beyond the school and community. As they graduate, they continue to lead others in caring for God's creation, sometimes in other countries. 
Ricardo Pineda, who graduated from IST and is now studying at university in Mexico, was recognized by politician Al Gore as a leader of Honduras in climate change. María José Morán, another IST graduate who is attending university in Tennessee, is writing articles about climate change for her university's online blog. 
Back at IST, Rómulo continues to equip and empower students to continue living out their faith and influencing their community in Honduras. He also prepares them to sustain these practices as they approach graduation.
Rómulo said that common phrases heard from adults, such as "children are the future," don't necessarily include the children as being part of the current action and decision-making taking place about big issues like climate change.
"Normally people believe that children are the future of our nations in Latin America, but we believe they have a voice and also that they are able to be part of the solutions right now," said Rómulo. 
This type of leadership from students is the reason that Resonate partners with Christian schools like IST throughout the world. Through your support of Resonate, you are equipping young people to be leaders in their communities right now. You are empowering young Christian leaders for kingdom transformation.
Pray for these young leaders as they continue to do great work for the care and growth of God's kingdom!