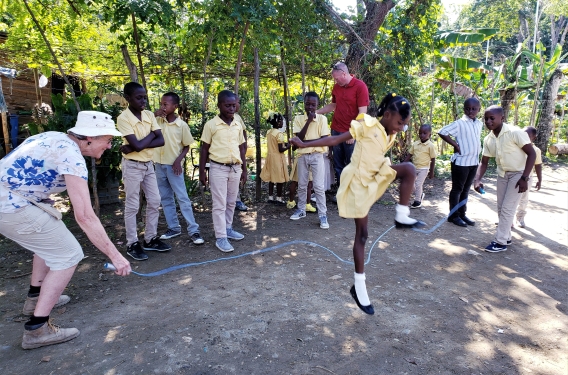 A partnership with Exeter CRC in Ontario gave Ponton CRC in the Dominican Republic and "extra boost."
In January 2020, just a few months before Covid-19 was declared a pandemic, ten members from Exeter CRC in Ontario traveled to the Dominican Republic to partner with Ponton CRC and a passionate ministry leader.
Together, they constructed a building that would serve both as a place of worship and classroom space for a new Christian school.
"The local church purchased the land, put up a temporary wooden building, and [began] putting in concrete footings, columns, and walls for a permanent building," said Steve Brauning, a Resonate Global Mission missionary who serves with the Christian Reformed Church in the Dominican Republic (CRC-DR). "What we did as Resonate was come alongside them and assist with the building that will serve both the church and the school."
The partnership gave Ponton CRC and its community an "extra boost," said Steve.
Starting Churches in the Dominican Republic
Juan Ortiz planted Ponton CRC. When Juan was 14, he left Haiti by himself and immigrated to the Dominican Republic. He moved in search of better opportunities, but Haitians in the Dominican Republic face a long history of prejudice from many of their Dominican neighbors. They struggle to find jobs and an education for their children, and they often live in some of the poorest conditions in the country.
Juan, who has a heart for his fellow Haitian immigrants, planted his first church in his 20s—but he still couldn't escape discrimination within his denomination. When he learned about the CRC-DR, a Resonate partner, he found a home.
"In the classis that he was part of, there were pastors of both Haitian and Dominican descent. He felt that there was a good rapport and fairness," said Steve.
Resonate and the CRC-DR have worked alongside Juan for several years as he planted two more churches and started two Christian schools. Almost a decade ago, he planted Ponton CRC. When he saw a stark need for education in Ponton, he also started a Christian school. Nearly 50 students attend the school—studying math, science, and the Bible—in the church building.
But the church and school needed more space and a stronger building where people and students could safely gather. That's when Exeter CRC stepped in.
An Extra Boost through Partnership
Ten members from Exeter in CRC joined the project to construct a new building. They raised funds to help pay for materials and labor, and then they traveled to the Dominican Republic to work alongside the church.
"I kind of felt led to do this," said Harold Vandermeer, a member of Exeter CRC who organized and led the service and learning team that traveled to the Dominican Republic with Resonate.
Harold has traveled to the Dominican Republic six times to serve alongside Resonate missionaries and partner ministries. The first time, his friend Harry De Jonge from Talbot Street Christian Reformed Church (who has been to the DR 18 times) invited him. He said that working side-by-side with members of churches in another country—and visiting their communities—was a transformative and eye-opening experience. After Harold went on that first trip, he felt called to lead teams from his own church to partner with CRC-DR churches.
Over the years, Harold has worked with a few CRC-DR churches, but he said Ponton CRC was special because of the work with the school. 
"These children wouldn't otherwise have the opportunity to go to school," he said. 
In addition to helping with the construction of the building, the volunteers on his team—some of whom were retired school teachers—were able to work with the students and teachers. The time of service was also a time to build relationships with one another. Members of the local church and the team from Exeter at lunch together each day and shared testimonies with one another.
With the extra support from Resonate and Exeter CRC, Ponton CRC could build above and beyond their original plans. They decided to put a concrete roof on their building so they could add a second floor and make more room for ministry.
"There was a lot of fellowship and collaboration on the project site and also in the temporary school location," said Steve."Everything progressed wonderfully and on the Sunday before the team from Exeter left, the two churches worshipped together under the wooden forms for the concrete roof."
The church has since poured concrete and finished work on the building.
Witnessing God at Work
Juan has seen God at work through Ponton CRC and the Christian school in the community.
"He has seen many people saved and join the church," said Steve. "Many people helped with material needs, and many children get a good start in school … that is God at work in and through Juan."
Harold said it was encouraging to work alongside Ponton CRC's church community. 
"It's like seeing your own church community, right? They have each other as support," he said. "It's an opportunity to serve people … we have an opportunity to build each other up."
We're looking forward to being able to travel again someday soon to serve, learn, and work alongside Christians across borders. Are you interested in group service-learning opportunities with Resonate? Contact Gillian Bruce: gbruce@crcna.org
Photo by Resonate missionary Steve Brauning