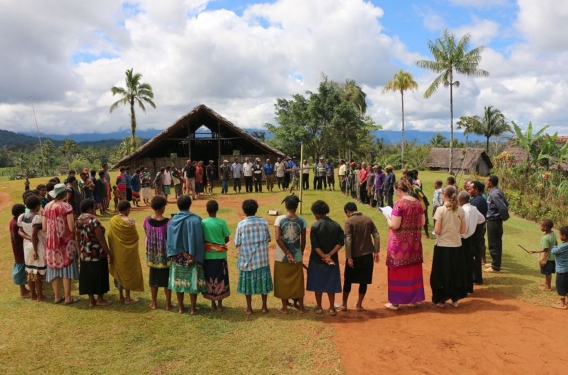 Last year a 7.5-magnitude earthquake shook Hela Province, Papua New Guinea. Landslides destroyed villages, took the lives of many people, and left survivors buried in grief and fear.
"People were in shock," said Jenny LeMahieu, a Resonate Global Mission missionary who serves as a Scripture-use facilitator with Wycliffe Bible Translators. "Various organizations came to hear their stories in order to give tarps or food. No one had come to talk about [the survivors'] emotional and spiritual pain."
Not until Jenny and her team arrived.
Shaken Faith
"A lot of people around the world believe that when a big [disaster] happens, it is due directly to something that they have done," said Jenny. In Papua New Guinea, this earthquake didn't just leave destruction and death in its wake—it also left a spiritual crisis.
After 100 years without experiencing an earthquake in Hela Province, "Why now? Why these villages?" people asked. Many concluded that this disaster was punishment for their sin against God.
"This resulted in many people being afraid of God and wondering when he was going to strike them again," said Jenny.
People repented and asked God for forgiveness, but smaller earthquakes continued to cause tremors. Full of fear, churches stopped worshiping.
"How can you worship a God that you think is trying to kill you?" asked Jenny.
God's Unshakable Faithfulness
Through previous work she had done with Resonate in Haiti, Jenny had learned about the importance of Healing the Wounds of Trauma workshops and addressing spiritual pain. So she rallied her Wycliffe teammates who had been trained in the workshops and brought groups of pastors and their wives together.
"[Individuals shared] how they had been keeping their pain inside after loved ones had died, but now they were able to share their pain with others and felt a heavy load lifted from them," said Jenny. Her team was able to shed light on God's truth using the village's own translated Scriptures.
"We were able to point them to Jesus' pain and ability to take their sorrow and turn it to hope and joy."
As the pastors and their wives start to find inner healing in God's love, they are able to bring healing and restoration to their churches and communities by sharing the truth of God's Word. Churches are now meeting together and worshiping God again.
Thank you for sharing the hope we have in Christ with the people of Hela Province.