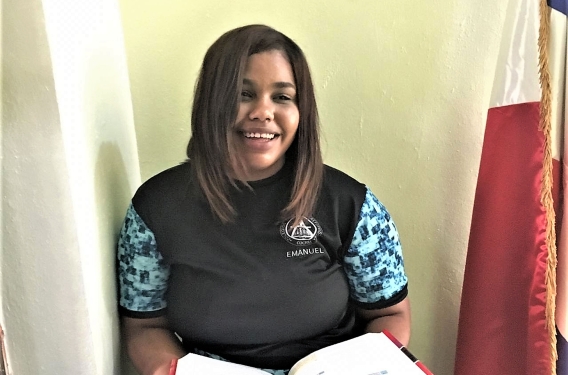 When Scarlet was expelled from school for bad behavior, she wanted to change but was worried that no one would accept her because of her past. She experienced God's grace at Emmanuel Christian Reformed School, a Resonate Global Mission partner in the Dominican Republic.
Searching for Acceptance
Scarlet's parents separated and her father left home when she was young. Scarlet was devastated. "I was very close to my father," she said. "When he left, I couldn't understand why … it left a big emotional vacuum in my life."
Trying to fill the hole her father left, she searched for acceptance from others and fell into the wrong crowd. She was accused of trashing the school. She kept silent when her friend stole a cell phone. Eventually, she was expelled.
"[It] forced me to reevaluate my life and realize that this was not the life that I wanted to live," said Scarlet. "This did not reflect my character or my family's values … I knew I needed a change," she said.
That change was Emmanuel, a school part of Resonate partner Colegios Cristianos Reformados (COCREF).
A Community of Grace
"Emmanuel [has] adopted the concept of being a 'community of grace,'" said Resonate missionary Stephen Brauning. "Through love and commitment, even the most difficult children are given a chance."
Carmen de los Santo, director of Emmanual, wanted Scarlet to have a supportive community and an opportunity to work for a good future. Even though the director from Scarlet's previous school warned Carmen not to accept Scarlet as a student, Carmen invited Scarlet into Emmanuel's community.
But as Scarlet's first day at Emmanuel loomed closer, she shook with nerves. "I was very afraid that I would not be accepted by the other students, or that the teachers would give me a very hard time," she said. "But [that] was not the case."
Loved and Accepted
Students and teachers welcomed Scarlet with a smile. Students befriend Scarlet and offered to help her with schoolwork. Scarlet experienced God's grace.
"I have come to realize that God made me in his image and loves me and has a plan for me," said Scarlet. 
Thank you for supporting Christian education through Resonate so students like Scarlet can experience the transforming power of God's grace in the classroom. "Please pray for me since I still have [challenges] in my life," said Scarlet. "But mostly, give thanks to God for what he has done."
This story was originally published by The Banner.