"I was really lost. I was feeling confused. I was questioning a lot of things I had known for sure and had never doubted," said Zipporah. You were there for her.
"Are you still there, God?"
When Zipporah decided to pursue a career in social work, she enrolled in a master's program at the University of Calgary. Shortly after starting the program, however, she found herself in a confusing and dark season. Her sister passed away from cancer, and Zipporah couldn't attend the funeral because of Covid-19 restrictions. Her classes taught about social justice issues and racism, and she wondered how Christians and the church should respond.
"All the foundations I had were being uprooted," said Zipporah. "I was really lost. I was feeling confused. I was questioning a lot of things I had known for sure and had never doubted."
Connecting with Community
Weeks of confusion and grief passed, but then Zipporah found an advertisement for an online women's group co-led by Pearl Nieuwenhuis, one of your Resonate campus ministers who works as a spiritual director at the University of Calgary.
"After I went the first and second time, it just felt right, so I kept on going back," said Zipporah. "It helped me feel not so alone. . . . It was just, 'Where are you at?' And 'Let's walk together.'"
After connecting with the campus ministry, I feel connected. I feel grounded. Even when I have questions, the questions feel like they are okay to have. . . . They are leading to a deeper understanding of myself within my relationship with God.
Eventually Zipporah asked Pearl if they could talk one-on-one, and they started meeting regularly through video calls. 
"When I meet a person in spiritual direction, we listen to their life together," said Pearl. "As we listen, we also trust that God is lovingly active in every aspect of their life. And so when Zipporah and I met, we listened, looked, and wondered how God might be lovingly with her."
Stepping into a Calling
As Zipporah continued meeting with Pearl, she started to feel more grounded in her faith and her relationship with God. She started praying, reading the Bible, and listening for God's guidance and direction. Pearl also encouraged her to discern what God might be inviting her to step into through her questions and confusion. And as the months passed, Zipporah started to see more clearly where God was at work in her life—not only in spite of the challenges and questions but also through them.
Meeting with Pearl "has helped me to see God again, to start reconnecting with God's presence and to start having a relationship again," Zipporah said.
Through this process, Zipporah has been able to step into a new calling. She has since completed her classes and is working on her master's thesis. She also recently started a new job in equity, diversity, and inclusion—one of the ways she has seen God at work through her questions.
"It feels like God's purpose for me is coming to be. . . . Knowing that this is what God intended for me makes this position not just a job but a calling," she said.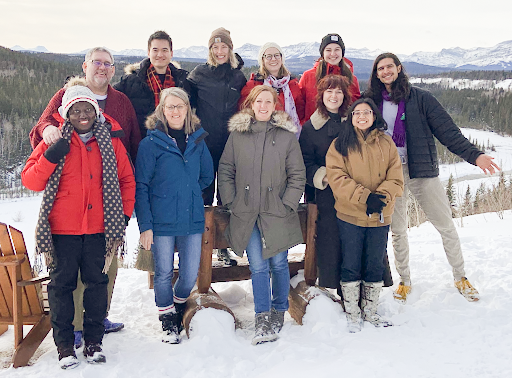 Feeling Grounded
Pearl said that she sees God at work in and through Zipporah and her new calling. "Zipporah is a very good listener to others; she responds to others; and she is very thoughtful," said Pearl. Pearl shares that Zipporah is attentive to others and a trusted advocate for people who need someone to stand up on their behalf.
Thank you for your support of campus ministry through Resonate! You help make it possible for campus ministers like Pearl to walk alongside leaders like Zipporah.
"After connecting with the campus ministry, I feel connected. I feel grounded. Even when I have questions, the questions feel like they are okay to have. . . . They are leading to a deeper understanding of myself within my relationship with God," said Zipporah. "Anytime I've been really struggling and I've reached out to Pearl, she's been there."