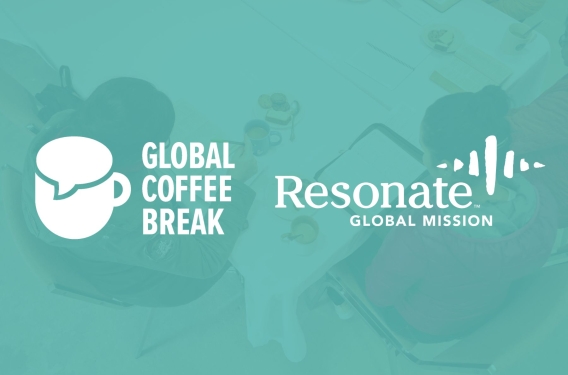 Both Global Coffee Break and Resonate Global Mission have a heart to see people around the world grow in their relationship with Christ and share their faith with others.
Resonate has a long history using Global Coffee Break Bible study guides. Resonate will continue to use Global Coffee Break resources and accept donations to get these resources into more hands throughout the world.
What does this new collaboration mean for you?
Who is Resonate Global Mission?
Resonate is the mission agency of the Christian Reformed Church in North America. Resonate sends missionaries, plants churches, and mobilizes congregations to join God on mission in more than 40 countries throughout the world, including Canada and the United States. Previously, Resonate and Global Coffee Break were ministry partners, but now Global Coffee Break is formally part of Resonate's family of ministries. 
What will change for you?
While things might look a little different for you, Global Coffee Break still has the same committed staff members delivering the same wonderful Bible study guides and training resources for you and your groups. We're here to walk alongside you no matter what you need.
Where do I go to find Global Coffee Break resources and other information?
You can now find the Global Coffee Break webpage on Resonate's website at www.resonateglobalmission.org/globalcoffeebreak. Take a minute to bookmark this webpage! You can find Global Coffee Break's shop, contact information for our team, signup for our eNewsletter, and more!
But don't worry—you can still visit www.globalcoffeebreak.org, and it will redirect you to the new webpage on Resonate's site without you needing to do a single thing.
Who do I contact if I have questions?
Our team has not changed! You can connect with any of us if you have questions, or you can fill out this contact form and someone will get back to you as soon as possible. 
What new opportunities does this provide?
This new relationship gives Global Coffee Break and Resonate opportunities to serve you and people throughout the world better and to expand our reach. We have new, passionate co-workers throughout the world who are familiar with Global Coffee Break resources and excited to work in a new capacity. Stay tuned for new study guides and stories of God at work through this ministry!