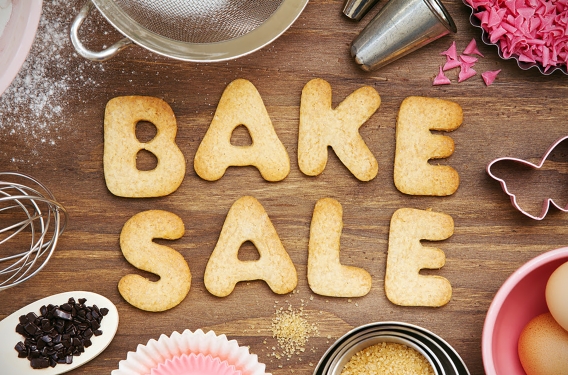 "From beginning to end, fund-raising is grounded in prayer and undertaken in gratitude...Gratitude flows from the recognition that who we are and what we have are gifts to be received and shared." -- Henri Nouwen
Fundraising is as much a participation in ministry as it is a necessity to support ministry. When we invite others to give, we are asking them to invest themselves and their resources in God's mission to expand his Kingdom and grow His church. Here are some practical ways to help fundraise for your ministry.
Host a Dinner, Breakfast, or Dessert
Valentine's dinner with special music and a top notch menu (steak, baked potato, dessert).
Dessert evening with special music.
Pancake breakfast before church or school.
Ethnic food themed dinner. 
Spaghetti dinner: Invite the congregation or school to come for a spaghetti dinner. Prepare the food as a group. Tell about your trip. Ask for contributions. You could also show a video, play games, hold a raffle.
Sports celebrity dinner with silent auction. Maybe you know a sports celebrity in your area.
Guess who's coming to dinner event: People sign up for either making and hosting a meal, or for going out for dinner. Those who make the meal contribute the food needed to serve the guests. The guests give a donation at the end of the dinner. Each home has about 6 people for dinner.  No one knows who's coming or where they're going until an hour or so before. People end up sharing a meal and an evening with people they may never have socialized with before.
Morning-Coffee Drive Thru: Your team cooks up "McMuffin" style breakfast sandwiches and coffee at your church or school.  People drive through and pick it up on their way to work.
Coordinate an Event
Evening of Music: Ask people in the congregation who are musically inclined and set up an evening of various music.  Have performances (singing or instrumental) as well as communal singing. During the event team participants share what they are going to be doing.  At the end have collection boxes at the where people can make a contribution.
Free car wash: Draw people in by saying it's free and then tell them what the team is  doing.  Ask for donations.  Most people contribute - some even large amounts.
Coordinate some kind of family night that has people engaged in some kind of fun/cooperative activity. Host an "in the dark" mini putting tournament.  Include in the cost easy food (pizza and pop), as well as prizes for specific holes (hole in one, combined team effort, etc.). You can also include a silent auction as part of the evening.
Goods and Services Auction: People contribute a variety of things such as weekends at their cottage, a day of sailing on someone's sailboat, or a day of fishing at someone's secret fishing hole, gourmet dinner at someone's home, etc. - whatever people can come up with. 
Garage Sale: Have a "garage sale" at your church or school with the goods people donate. Or someone in your church or school could host a yard sale at their home and donate the proceeds to your team.
Design an event-based on a latest craze that would interest people – e.g., Amazing Race – similar to a car rally but with all sorts of interesting challenges.
Host a movie night at church: Rent a new release (with copyright approval) and sell tickets.
Sell Items
Selling food or other items is always a good way to make money. People like to get something for their money. You can do this through a fundraising business or produce your own items and sell them.
Use a fundraising company to sell sub sandwiches, popcorn, candy, cookie dough, etc.
Make your own food as a team: subs, apple pies, pastries, dried soup jars, dried cookie mixes.
Make handmade cards as a team and take orders.
Produce a cookbook
Gather recipes from church or school members.  Include some recipes from an old church cookbook if available.
Use an outside company produce the cookbook (approximately $6 each depending on the company).
Sell for $15 or whatever your market will bear.
Sells well especially around Mother's Day or Christmas.
Could include 550 recipes with names of people who submitted.
Sell flowers at special times of year: poinsettias at Christmas, spring flowers and Easter Lilies at Easter, Mums on Mothers' Day, etc.
Hold a bake sale after church and ask for donations donation or fixed prices.
Farmer direct sales: Buy fruit and vegetables from local farmers (or ask them to donate) and set up a fruit stand or take orders.
Activities
Walk-a-Thon: Sponsor per lap, given distance, or donate a flat amount
Pet Services: Trimming nails, bathing and drying dogs and cats. Purchase the supplies and advertise in your community.
Yard Work: Mow lawns, trim, or weed in the spring and summer. Rake leaves in the fall. Plow or shovel snow in the winter.
Set up a loose change jar in the lobby: Ask pastor or principal to make an announcement.
Baby-sitting services: Parents drop their kids off at your church or school.  Your team (with adult supervisors) watch the kids and ask for donations.
Thanking Donors
Don't forget to thank donors. You don't want people to feel you've abandoned them after they donate to your trip. 
Send individual thank you notes if you know the donors.
Include a thank you in the church bulletin or school newsletter.
Give a report in church or school and thank all those who contributed.
This resource and more like it can be found on The Network