People throughout Canada and the United States are finding a home at Resonate partner church plants you've helped to start.
As people move throughout the world, communities across Canada and the United States are becoming more ethnically diverse. Within the span of a few miles or kilometers, you might hear different languages spoken or see different styles of clothing representing dozens of cultures. In our North American neighborhoods it's beginning to look a little like the portrait painted in Revelation 7:9: "There before me was a great multitude that no one could count, from every nation, tribe, people, and language, standing before the throne and before the Lamb."
"There's a fullness to our witness to the gospel that's only possible as a diverse people," explained Tim Sheridan, your church planting leader for Resonate Global Mission.
This is something to celebrate, but it also poses unique challenges for reaching people with the gospel and seeking justice in our communities. That's one of the reasons why your support of church plants through Resonate is so important.
"As communities become more diverse, there is a need for different expressions of church. We need churches with different models and ways of praying, reading Scripture, and worshiping God, churches who mentor young people or connect with campus ministries," said Tim.
Here's a glimpse at a few of Resonate's partner church plants that you support and how they reflect that diversity in culture and ways of approaching ministry: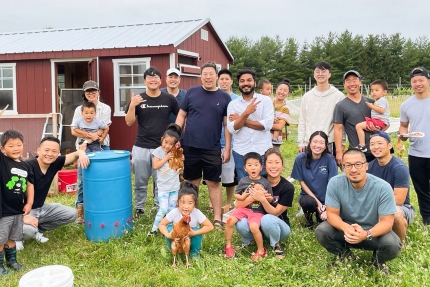 A New Expression of Church for Korean Americans
New Jersey is one of the most ethnically and racially diverse states in the United States.
"There are not enough churches of various sizes and expressions that can reach every person," said Timothy Joo, pastor of King's Covenant Church in Bridgewater Township. "New Jersey is too diverse ethnically, culturally, socioeconomically, and spiritually to have one 'expression of the church.' New church plants with various expressions give us the broadest ability to reach people."
Through King's Covenant Church, you're reaching the increasing population of Korean American and Chinese American people who live in and near Bridgewater Township. The church plant has also connected with local campus ministries. It supports these ministries financially and in prayer and hosts Bible studies at Rutgers University and Princeton University. 
"What excites me about our church community is witnessing God's faithful provision through the sacrificial generosity of each of the members of our church," Timothy said.
Healing a Historically Segregated City
Smithfield, North Carolina, was one of the most segregated cities in the southern United States. In the past 50 years that has changed as the city works to become more inclusive. Higher Calling Church, a new church plant you helped to start, has become an important part of that work.
"We feel that God has called us to come alongside him in his work in Smithfield," said Pastor Danta Covington. He and his wife, Shonda Covington, planted Higher Calling Church to intentionally reach out to the Black population in their city.
And it's not only a church.
Working toward justice and caring for people in their community is important. "(We) reach out and impact those who have fallen through the cracks by mentoring youth, providing help as we can, partnering with existing programs in the area, (and) being a bridge for all who need it," Danta said.
While Higher Calling Church doesn't always have the resources to help directly, Danta said they can point people in the right direction, and your support helps make that possible.
"When you see an ex-drug user get saved and begin to become a productive citizen on fire for Christ, or a young boy excited that he got a chance to make some money working around the church, it's worth it all," Danta said.
Providing for the Latino Community
As Sunlight Community Church in Florida grew, they saw a need to reach the growing Latino community in Port St. Lucie. With your help, they planted Iglesia Sunlight Español, a church where people get to worship and hear a message in the language they know best.
Hosting community events and gatherings is also a key aspect of ministry for this church plant. With support from Resonate grants you help fund, they started hosting events twice a year, once around Easter and once again in the fall. 
"Our neighborhood community lacks a central event or location to gather people together for community and relationship building," Pastor John Granada said. These church-sponsored events have provided ways for church members to get to know neighbors while also providing unique opportunities to give to families, such as giving gift cards to help with expenses around the holidays.
A Diverse Church Reflecting a Diverse City
Several churches in the Christian Reformed Church are beginning to reflect many cultures and ethnicities. One such congregation is mosaicHouse in Edmonton, Alberta.
"Edmonton is a diverse city because God has brought the four corners of the world into our city—and that's why God has sent us to Edmonton," said Pastor Victor Ko.
Victor said people in the city are drawn to mosaicHouse because it reflects the diversity of the city where they live. Longtime residents, immigrants, and refugees have all found a church home at mosaicHouse.
"We are a multicultural community living out the great commandment and carrying out the great commission," Victor said. "We celebrate and go after a multiethnic diversity. … Think of a mosaic tile—different shapes, different contours, different colors all coming together toward Jesus."
One member said she was drawn to mosaicHouse because she felt safe being herself in conversations. She said she would feel comfortable inviting friends from different cultures to mosaicHouse.
"There are people from all over the world," she said. "Here in mosaicHouse, we're able to feel some unity."
A Fuller Gospel Witness
Church planting is a denominational effort, and your support of church planting through Resonate plays a vital role! Each plant is supported by an established congregation and its local classis. Through Resonate, your support plays an important role in supporting church planters and the new congregations as they seek to serve their communities. Church plants help reach groups of people who might not otherwise have a church home. These diverse church plants play a unique role in reaching out to people, discipling seekers and believers, and working toward justice in their communities.
And the Christian Reformed Church is growing as a denomination because of these new churches.
"We are growing in terms of having a presence in cities and regions where we historically haven't had a presence. We're growing in terms of ethnic diversity. We're growing in terms of really seeing the unique and diverse ways of engaging local communities with the gospel," Tim said. 
"Church planting is giving us opportunities to embody and witness to the gospel with integrity. … The body is not complete without that diversity. As Paul puts it in Ephesians 3, it will only be together with all of the Lord's people that we are able to grasp 'how wide and long and high and deep' God's love for the world truly is."
A version of this article was previously published by The Banner