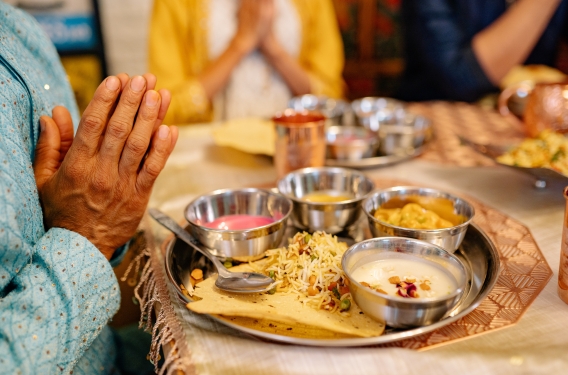 God works in surprising ways. A group of Chinese businessmen and their wives learned about the gospel while on a tour with your Resonate missionary.
"That is the first time I ever prayed. Why do you pray?"
Resonate Global Mission missionary Clark* looked up from his plate to the man seated across the table from him. Around them, diners quietly chatted and clanked their silverware, but the group was focused on the words Clark had just spoken—a prayer of thanksgiving and blessing for the meal.
Clark was leading his friends John* and Grace* and a group of businessmen and their wives on a tour of a Middle Eastern country where he serves. John had asked Clark to organize and lead the tour. It was an exploratory trip for possible future tours with his business connections in China.
"[John's] goal was to use this spiritual journey to introduce them to the Bible and truth found within it in connection to the ancient [local] writings," said Clark.
The group consisted of John, Grace, and three other couples who were part of their Chinese community in Chicago. Together they traveled to the Middle East and Clark led them through a tour of the history of the Bible—places where Abraham, Moses, and Jesus walked and prayed.
Aside from John and Grace, none of the couples knew very much about Christianity. This tour was one of their first introductions to the gospel.
God works in amazing ways. A Chinese group from Chicago, touring 3,500-year-old ruins … learned about prayer and biblical truth while breaking bread together.
So, when they sat down to enjoy a meal together and Clark prayed, one man was curious. Clark was able to share with him about how people are children of God, and that it's important to praise the Lord and give thanks for how God has cared for and provided for us.
"Isn't it great and loving to have your son come up to you and thank you for all you have done for him? To thank you for the roof over your head, the food, the clothes, and everything you provide for him?" Clark said to the man.
"That is what we are doing when we pray before meals. We are saying thank you for all that God has provided for us, including the people we can break bread with."
As the tour continued, everyone in the group continued to ask questions about God and how everything they were learning related to Jesus.
"God works in amazing ways," said Clark. "A Chinese group from Chicago, touring 3,500-year-old ruins … learned about prayer and biblical truth while breaking bread together."
While the tour lasted for only a week, the experience has transformed this group of people. They have since returned to Chicago, but John and Grace's friends are still showing an interest in Jesus and Christianity. They have begun attending church
"They would not say they made the decision yet, but they are curious and still searching," said Clark.
Will you please pray for the people who were part of this tour? Pray for curiosity and opportunities to learn more about Christ. Ask the Holy Spirit to stir faith.