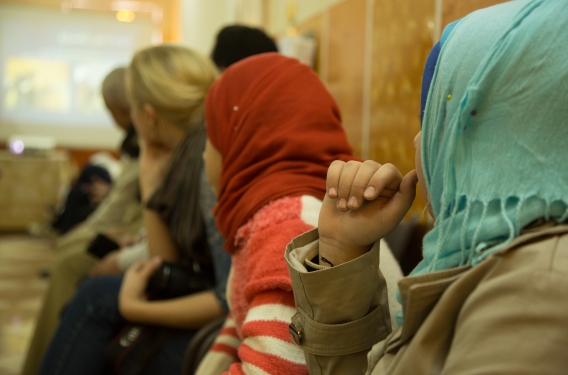 Resonate Global Mission's Cohort Middle East was in the works for two years before being delayed by the coronavirus pandemic—but the wait is over. Resonate's first group of young adults recently kicked off their time of service.
Resonate's Cohort is an opportunity for young adults, ages 18 to 30, to discern God's call on their lives while serving with a grassroots ministry, gaining cross-cultural experience, and engaging in deep spiritual formation. Resonate's Cohort currently operates in three locations: Central America, Detroit, and the Middle East. 
Five young adults are currently serving with Resonate in the Middle East. While coming from many different countries throughout the world, each young adult was already living in the Middle East before countries enacted COVID-19 travel restrictions. That's why they were able to take part in this opportunity.
"I'm excited for this group," said Emily*, a Resonate missionary who established and leads Cohort Middle East.
"I think this group of people will learn how to work really well together," she said. "It's a diverse group. They have a lot of unique gifts, skills, and experiences. I think they can have a lot of influence on others' lives."
Each Resonate Cohort location offers a unique ministry focus, and Cohort Middle East works in a dynamic region. A Muslim-majoirty context, many people are strongly influenced by the Islamic religion and culture—but the region is also steeped in biblical and early-church history. As such, Cohort Middle East is a unique opportunity for young adults who are seeking to learn more about building interfaith relationships.
"There are 1.8 billion Muslims around the world, so it's valuable knowing about that religion—and it's important to know how to build those bridges between people," said Emily.
Resonate's Cohort also deeply engages topics of social justice and how believers can live into God's call to work toward justice in communities throughout the world, and Cohort Middle East has unique opportunities to engage that work through efforts such as community development, working with refugees, and working with communities of people who are marginalized by society, education, business, and more.
A few Cohort fellows in the Middle East are currently working with third culture kids; another fellow is serving with a ministry that teaches about business while offering discipleship; another is working with people living in a part of the city that is poverty-stricken.
Young adults are also serving terms with Resonate's Cohort Central America and Cohort Detroit. Each cohort has adapted to COVID-19. Cohort Detroit is currently meeting and working virtually. Fellows who are part of Cohort Central America are currently all serving together at Casa Adobe, a Resonate partner in Costa Rica. As long as borders remain open and people remain healthy, they will be traveling to their respective countries of service in April.
Cohort is one of the ways Resonate seeks to equip young adults to be servant leaders in their communities. After completing Cohort, fellows typically go on to work in full-time ministry or bring their skills in cross-cultural ministry back home to help strengthen the church in North America.
"My hope is that they really grow in the Lord during the time that they're on the field and that they really learn to hear God's voice and experience ministry, get involved in ministry, and see where their gifts and talents lie," said Lisa Lankheet, who leads Resonate's volunteer ministries. 
Does Cohort sound like a good fit for you or someone you know? You can learn more at www.ResonateGlobalMission.org/cohort
*Names changed for security