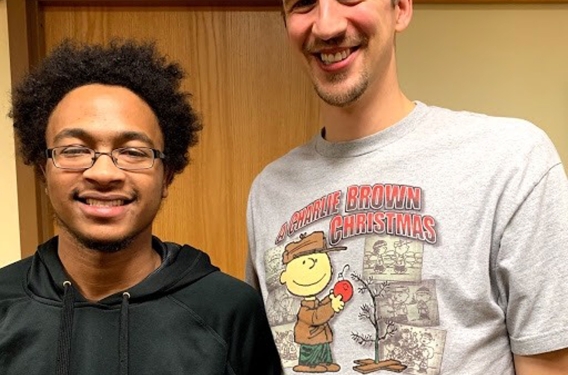 Luis had planned to end his life the night before his classes were scheduled to start, but then a room full of balloons caught his eye. He found himself at a meeting for Resonate partner InterVarsity Christian Fellowship led by CRC campus minister Kendall Everett on the campus of William Patterson University in New Jersey.
A Student Wandering
Though he was raised in a Christian family, Luis did not have his own relationship with Christ growing up. "I flat-out denied God's existence for a long stretch of time," he said. A sophomore studying sound engineering, Luis entered college feeling empty.
"I had no purpose and decided that my life was not worth living," he said.
As he wandered around campus the night he had planned to end his life, the colors of balloons caught his eye. Even though he was skeptical of the InterVarsity Christian Fellowship (IVCF) meeting that the balloons decorated, he still wandered in. "I just sat and listened."
Curiosity Welcomed
After that first night, Luis came back a second time, then a third time, and though not yet ready to make Jesus a part of his life again, Luis continued to attend IVCF regularly. "I just liked the group," he said. "I enjoyed their company."
As he continued to show up, the faith that Luis had been exposed to as a child began to take on new life. "[IVCF] show[ed] me that Christianity was much more than something my family made up and force fed me growing up."
Luis' curiosity persisted and IVCF remained a safe haven for him to explore his faith, allowing him to safely ask questions and rediscover Jesus. "IVCF impacted my faith because it created a space where I could see who Jesus really was," Luis remarked.
But shortly after, Luis began to have doubts. "Was I hoodwinked into joining this religion through youthful fellowship and worship music? Did I really believe what I just said I believed? Is this actually worth it? Am I actually worth it?"
Luis started meeting with Kendall, who discipled him. "I was able to ask questions," said Luis. "I started learning more about who Jesus was."
He doesn't know when those doubts began to fade. "All I know is that Jesus kept growing in my heart to the point where those doubts became the lies that they always were."
Kendall encouraged Luis to attend The Big Event, an annual fall retreat for IVCF at schools in New Jersey and New York. It was there where Luis made the decision to follow Jesus.
Purpose Realized
Now, a year and a half after he first wandered into IVCF, Luis has found a new purpose for his life sharing the gospel with all who will hear. "If Jesus was able to look at who I was and through all the self-destruction, disbelief, selfishness, lies, etc. and still see someone worth saving, I have no right to deny anyone else that experience."
To Luis, being a Christian at William Paterson is so much more than just going to classes and IVCF. "As Christians, we need to share this with our classmates, with our friends, and even with our faculty," he said.
For some, this may be scary, but Luis' faith has given him a boldness he didn't have before. "I don't have to depend on my own understanding," he said, "because I know that God is already at work wherever He is sending me."
Hope-Filled Future
Luis' changed life spills out into his hopes for his campus. "I hope that every student that sets foot on campus in hopes of getting a degree leaves with so much more. I hope to see a campus where we see new believers coming to faith every day."
Thank you for supporting Resonate campus ministries as they serve as the hands and feet of Jesus to college communities across North America. Praise God for bringing Luis into a life with him, reminding Luis that his life is worth living. Pray for continued boldness, that Luis would always say "yes" to whatever Jesus calls him to, even when he may find it difficult. Join him in prayer for revival at William Paterson—may the light and love of Christ shine in every corner of campus.