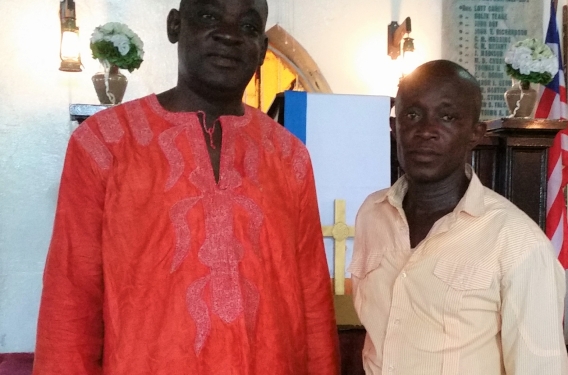 In the early 1990s, Resonate missionaries evacuated Liberia and ended formal ministry among the Muslim Vai people with feelings of disappointment and hopelessness. But they also knew that the hope of the gospel would continue to echo in the hearts of people you reached there.
"Only a few people had turned to Christ over the years of ministry, and political unrest was turning into civil war," says Ron Geerlings, West Africa regional leader for Resonate.
Finding Hope
Even when something seems hopeless from our standards, God is still at work. This time it was through a man named Morris Sonni.
Morris grew up Muslim, but when he heard the gospel presented by your Resonate missionaries over two decades ago, he turned to Christ. The message of hope presented by the missionaries stood with him even as he lived through the horrors of civil war.
Morris ultimately decided to escape, walking more than 100 miles to reach the safety of a refugee camp in Sierra Leone. In this neighboring country, he met his wife and, in recent years, took part in leadership training with Resonate's ministry in Sierra Leone.
"Morris connected with us, and we introduced him to Timothy Leadership Training," says Istifanus Bahago, who serves the CRC of Sierra Leone in partnership with Resonate and the CRC of Nigeria. "Morris was able to use his newfound skills and knowledge to help improve the income of the Christian community."
Still, Morris's heart was back with his home people. He felt God calling him to return and to share the good news of Jesus with people there. Today your support for Resonate has helped Morris to plant a church as well as to finish funding a Christian school in an almost completely Muslim area.
Because Morris has been able to combine his passion for sharing the gospel with the training that you provided, he brought a biblical understanding with him when he began these new endeavors.
Paying Tuition with Chickens
One way Morris implemented his leadership training was through the creation of a "chicken bank" at the school, an idea he saw other Timothy Leadership Training participants implement in Sierra Leone.
"Mothers bring in a hen to Morris, and he will then raise them," explains Bahago. "When they hatch, the chicks will be sold—and part of the money will go for the kids' school fees."
Today, people in Morris's village are becoming more open to hearing the gospel. And with your support, Morris has been able to show the value of a Christian education in a village that is predominantly Muslim. Thank you!
"Parents are so excited to bring their kids to the school," reports Bahago. "We give God the glory."