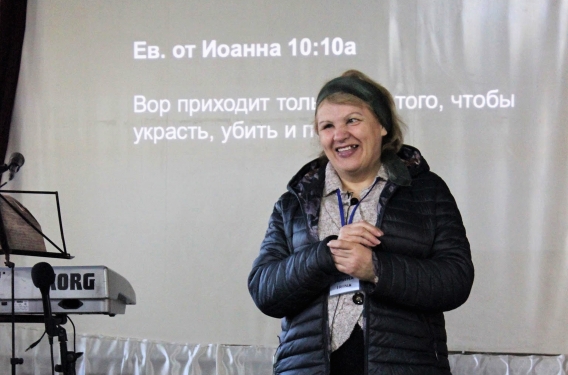 We all have wounds from past experiences—and Irina's life was full of them. You helped make it possible for her to find healing in Christ.
Everyone has wounds from past experiences—on an individual level, but also from how we relate to people who are different from us ethnically, racially, politically, and more.
But God is working powerfully through the Healing Hearts, Transforming Nations ministry that Resonate Global Mission missionary George de Vuyst leads in Ukraine. One person at a time, the Holy Spirit is reconciling communities.
A Life Full of Wounds
When Irina was a toddler, her father left home one day and never returned. Then, her mother left. Irina's grandparents took her in and cared for her, but as they grew older, they couldn't care for her as well as they would've liked to. Shortly after a sickness caused Irina to lose sight in one of her eyes, her grandparents sent her to live at a school for children with vision disabilities. 
Irina has also lived her entire life in Ukraine but is ethnically Russian. Ukraine and Russia have a tumultuous relationship, and Irina was ashamed of her ethnic identity. She stopped speaking Russian and advocated on behalf of Ukrainians. For that reason, many of Irina's Russian family members stopped speaking to her.
"Her life was full of a lot of wounds," said George.
And those wounds affected how she interacted with and related to people. Irina was a devout Christian, and she cared for people. But she also had strong convictions and could be very opinionated in conversations with friends, family, and her church community. She meant well, but more often than not, she was disruptive and divisive.
"One of the revelations Healing Hearts, Transforming Nations taught me was that before we can be reconciled, we need to address our pain," said George. "The church has often overlooked the question of what to do about the pain we experience as a result of sin—those committed against us as well as those that we ourselves commit."
That's where Healing Hearts, Transforming Nations comes in. Resonate missionaries and ministry partners like George use Healing Hearts, Transforming Nations to help lead people through a process of addressing their wounds and bringing their pain to the cross. It is through this process that they not only find healing for themselves but can also find reconciliation with people who look or think differently than them.
"We're really facilitating a process that God does with people," said George. "It really depends on how open a person is to allowing God to work."
Finding Healing in Christ
Irina was very open to allowing God to work. When her church sent her to Healing Hearts, Transforming Nations, the Holy Spirit worked in powerful ways to heal her wounds. Irina read Scripture and participated in discussions and other activities that helped her see that God cared about the pain she experienced. It also helped her surrender her wounds to God and find hope and healing instead.
"There was a massive change," said George. "She was very reserved, but also she was carrying a lot of pain. By the end … she was open, she was smiling, she said a weight had been lifted off of her."
When Irina returned home, she apologized to friends, family, and church members for hurting them and causing division. She has better relationships now! She also walked away from Healing Hearts Transforming Nations unashamed of her ethnic identity as Russian. She began to embrace her identity as Russian because the ministry showed her what Scripture had to say about ethnicity.
"God loves diversity and every ethnicity has its place in God's kingdom," said George. "She could embrace the fact that she was Russian, speak Russian, be proud in a healthy way of that and at the same time see that in no way reduces the same value in Ukrainians."
Healing Hearts, Transforming Nations made such a difference in Irina's life that she wanted to help facilitate these events as well! You helped make it possible to train Irina, and now she facilitates these events in her community.
"She's been a vital part of the team," said George. "As an ethnic Russian, it's extremely important. One of the things she does as part of the team is that she, as a Russian, asks forgiveness of Ukrainians for what Russia has done and is doing to Ukraine and for attitudes Russians have against Ukrainians."
"It's not easy," added George, "but it's extremely powerful and a really important part of the healing process."
An Opportunity for You
Thank you for supporting this ministry through Resonate! One person at a time, you're helping individuals in Ukraine to find healing and reconcile with their neighbors.
Supporters like you have recognized the value of Healing Hearts, Transforming Nations in Ukraine and have even requested to bring it to North America. Now, you have an opportunity to participate in this ministry, too! Resonate missionary George de Vuyst and ministry partners will be hosting four Healing Hearts, Transforming Nations immersion workshops for people in North America.
You can learn more and apply at www.resonateglobalmission.org/hhtn