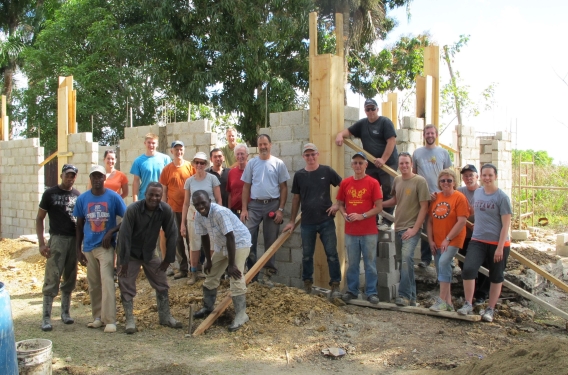 Resonate Global Mission volunteer Harry De Jonge has answered God's call to help build church buildings in the Dominican Republic—18 times.
Harry is a member of Talbot Street Christian Reformed Church in London, Ontario. In 2001, a young adult group from his congregation approached him. They wanted to partner with people in the Dominican Republic to help build church buildings, but they needed someone with a background in construction—and Harry had nearly 25 years of experience as a construction consultant.
"I felt a calling on my heart," he said. "I thought: this is something I can do."
Resonate partners with the Christian Reformed Church in the Dominican Republic (CRCDR) to come alongside national partners to construct church buildings and other buildings like Christian schools. The CRCDR assigns projects and outlines building specifications for teams who are volunteering their time, finances, and labor. The majority of the work projects are in the Dominican Republic's Haitian bateyes.
"Bateyes are plantation villages, owned and operated by the sugar cane company where the company is the dominant—and even only—law and economy,"  said Resonate missionary Steve Brauning. "Many have no electricity or running water, no schools, no clinics, no businesses except a company store, and no economic opportunity. In some cases, the people aren't allowed to even have a garden plot."
The church is often the only other institution in these villages. The government usually does not provide services, so the church is uniquely positioned to serve as a community center.
"[People in these villages] need a place where they can come together in safety, protected from the elements, to sit together and build one another up," said Harry.
Aftering returning home from his first trip, Harry continued to feel the Holy Spirit press him to join in God's work in the Dominican Republic. Nearly every year since, Harry has organized another trip with a team—sometimes twice in one year.
"We work side by side, shoulder to shoulder, with the local Haitian community," said Harry. "There's a real sense of harmony and community with the people we work with. They like to sing a lot. In the heat of the day, they'll be singing and they'll invite us to sing with them. We'll sing songs, and they'll pick up the beat right away and try to join us, and it's all laughter as they try to sing the words."
"It gives the local churches a shot in the arm," added Steve. "It is also an encouragement to have other believers come alongside them; friendships are made, there is cross-cultural learning, and often a lot of fun."
After 18 years of organizing trips to join Resonate's work in the Dominican Republic, Harry is stepping back so another leader can step up.
"We often have said that it takes a 'spark plug' kind of person for service and learning teams to come about," said Steve. "Harry has been that person."
Interested in group service-learning opportunities with Resonate? Contact Gillian Bruce: gbruce@crcna.org.