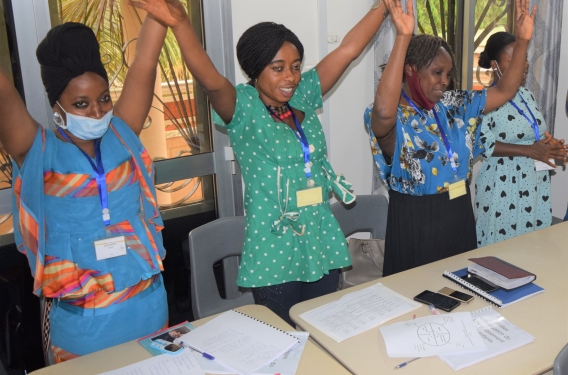 You can make an eternal impact when you send missionaries through Resonate.
Sometimes, God reminds us to look beyond our day-to-day tasks and join with his special plan.
That's what happened in Amy's life.
Amy is a woman in her early twenties who came to know Jesus Christ thanks in part to you and your Resonate missionaries in West Africa.
Amy had a difficult childhood and was placed in an orphanage at age six. When she left the orphanage at age 18, she felt lost and directionless.
Around the world, people like Amy are living without hope for this life or the next. They need your support! 
"It was like starting life from nowhere," she said. By the time she left the orphanage, she felt no purpose or hope in life. 
But you and I know that God has a purpose for every person's life. That's why the Christian Reformed Church works together with our congregations and mission-minded people like you to send missionaries to more than 40 countries! More than 1.5 billion people have not heard the gospel—the need for missionary ministry is critical! You can make an eternal impact when you send missionaries through Resonate.
Sosthene and Kara Maletoungou, Resonate missionaries in West Africa, met Amy when she applied for an internship at the Teacher's Garden, a Christian education resource center you help support through Resonate. Even though Amy was a Muslim, she was drawn to the work of this Christian resource center. The Teacher's Garden team found her to be a willing and diligent worker—and also sensed that God had a plan to call her to a better life.
When your missionaries shared with her about the eternal hope we have in Christ, something changed. Amy began to grow a closer relationship with the staff at the Teacher's Garden through prayer and studying Scripture. And the staff gave her a Bible.
Amy often spent time reading the Bible, making comparisons with what she had learned about Islam growing up, and leaning on your missionaries when she had questions. And the staff at the Teacher's Garden rejoiced with her when she gave her life to Christ and was baptized!
It's such a privilege to walk alongside you and your missionaries as we live and share the gospel together, and help people like Amy find a family of faith. Thanks to your support, Amy is no longer an orphan!
In fact, to help celebrate and remind us of her new life in Christ, she chose a new name.
My new name as God's daughter is Lydia, because the testimony of that godly woman in Acts 16 has influenced my faith and I want to be like her.
Thanks be to God!
That's the power of the body of Christ working together—you, your church, your missionaries, and the new Christians God is calling every day. 
And even though we get a taste of God's kingdom every time we rejoice with someone who responds to his call, we still have so much work left to do! Will you make a special gift to support missionary ministry today? You can put your gift to work right away by making a donation using the form below! 
When you give to Resonate, you answer Jesus' call to make disciples of all nations. And that means everything to people like Lydia.
As Lydia embraces her new life as a daughter of God, I hope you will help continue the incredible ministry that introduced her to her Savior. 
Lydia knows firsthand how important it is to invest in the vital work of recruiting, preparing, and sending missionaries. Will you help us continue that mission?
From Joel Huyser, Interim Director