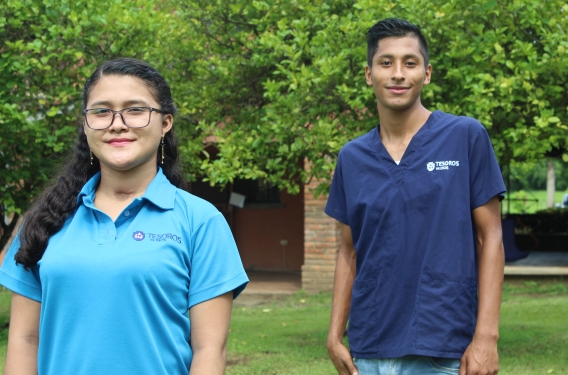 Estefany and Jefferson recently graduated from Tesoros de Dios, a Resonate Global Mission ministry partner in Nicaragua that provides education and therapy for people with disabilities. But today, Tesoros de Dios continues to provide a supportive Christian community for Estefany and Jefferson to grow in their identities as children of God—even as alumni.
Providing Much-Needed Education
In Nicaragua, there's little support for people who live with disabilities. It can be difficult and expensive to find quality education and therapy for people with disabilities, especially for families who already live day-to-day. Resonate partners with Tesoros de Dios because it is one of the few schools that steps in to fill that need by providing education and therapy at no cost to students and their families.
Estefany and Jefferson are two students who studied and graduated from Tesoros de Dios. During their time as students, they not only received the education and care they needed—but they were part of a loving, supportive Christian community that cared for them and their families.
Living in a world where people with disabilities are often unseen or pushed aside, Tesoros de Dios showed Estefany and Jefferson that they are loved and valued children of God.
But then they graduated. Just as it is difficult for people with disabilities to get the education and therapy they need, it can also be challenging to find jobs. 

Life after Graduation
Tesoros de Dios equips students for future careers through learning activities, specialized programs, and internships. As students at the school, Estefany and Jefferson were equipped to succeed.
When they graduated, they put their skills to work as volunteers. And after Tesoros de Dios' staff saw their hard work and dedication, they hired both Estefany and Jefferson as staff members. 
Estefany is assisting with school outreach, and she works alongside another teacher to support local teachers and classrooms. She leads workshops for teachers in Managua and beyond, in which she shares about best practices for inclusion and special education. She is also a substitute special education teacher when teachers are absent. 
Andrew Ippel, a Resonate missionary who serves on the Board for Tesoros de Dios, said that when Estefany was given a meaningful job opportunity, it gave her a sense of purpose. 
"Estefany has increased self-esteem and self-worth. She is more confident and her faith in God has increased as she is experiencing her 'worth' through employment," said Andrew. 
Jefferson has been hired to work with students in horse therapy. He guides students through various activities and exercises while they ride horses. He also helps the maintenance team by raking, gathering trash, and watering plants. 
"His self-esteem has risen and he sees himself as capable through his work," said Andrew. "Tesoros de Dios promotes inclusion in local churches and schools, and now the organization is demonstrating inclusion as an employer—a wonderful step in the right direction in a country with limited opportunities for adults with disabilities." 

Proud Staff Members
Andrew said that Tesoros de Dios staff members are very proud having Estefany and Jefferson as their co-workers. It's a testimony to God's work through Tesoros de Dios to see achievement and potential in the success of former students—and it provides hope for current students and their families.
"Family members … see hope and possibility for the future of their own children," said Andrew. 
Give thanks for the caring and supportive community that Resonate partner Tesoros de Dios provides for individuals with disabilities and their families.
Prayer Points
Pray for Estefany and Jefferson as they continue to serve God's kingdom! Give thanks for the gifts they bring to Tesoros de Dios and that they have found a sense of purpose and meaning in their work.
Give thanks for Resonate missionary Andrew and other Tesoros de Dios Board members, staff members, and volunteers who give of their time, gifts, skills, and experience for the ministry.
Pray for Tesoros de Dios as they navigate the uncertainty and challenges of the COVID-19 pandemic. Ask God to provide for the ministry financially and to protect students, staff, and families, from the coronavirus.