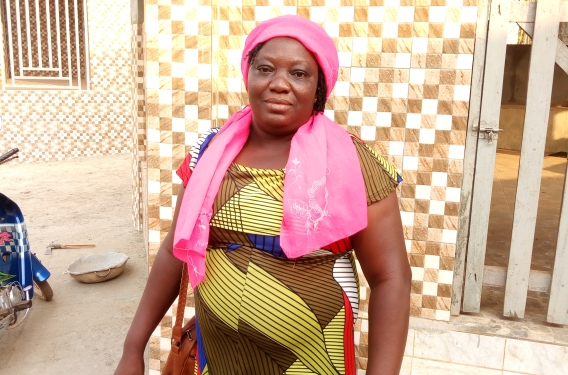 Hauwa was never especially interested in religion—until her 10-year-old daughter Kadiatu insisted on attending church. 
The daughter of an Islamic leader and wife of a Muslim man, Hauwa had always practiced Islam. But as a determined women's activist, her daughter's education came before her Islamic ties. She enrolled Kadiatu in Kabala Christian School, a Resonate Global Mission partner in Kabala, Sierra Leone.
A Christian Education
"I chose to send Kadiatu to CRC school because the school gives the best education in our community," said Hauwa. There, Hauwa's daughter received more than a good education—she learned about Christ.
When Hauwa's daughter made friends with Christian kids at the school, she saw the way her Christian neighbors loved and cared for each other and her. Hauwa began to question her Islamic faith.
"I saw God answering their prayers for me." she said. "Things were really difficult for me; there was no peace. Even when I prayed [to Allah] five times a day, I did not see myself growing spiritually."
Eventually, Kadiatu began asking to attend church. Hauwa initially resisted, but Kadiatu was persistent and Hauwa cherished her Christian neighbors. Hauwa finally agreed, and they began attending a Resonate church plant. There, Hauwa decided to follow Jesus as her Lord and Savior. 
Joy and Peace in Life
"I have not been a Christian for long, but I am already experiencing joy and peace in my life," she said. "I feel a great relief, like a big burden has been lifted."
As for the advocacy work that led her to send her daughter to CRC school, Hauwa said that learning about strong women in the Bible, such as Esther and Deborah, encourages her to do more as a woman.
"I believe that becoming a Christian has opened my eyes more to see and to advocate for the rights of women," she said. "Jesus did not discriminate against women." 
At the root of it all, Hauwa has no doubt that God used her youngest daughter to show her the way to salvation.
"Kadiatu is the happiest in our home now. Every Sunday we go to church together and I sit beside her." said Hauwa. "I knew that sending her to a Christian school was the best decision, and God used it for me to have salvation in Christ."
Thank you for supporting Resonate church plants that are bringing the gospel to people whose families have not yet known Jesus as Lord and Savior. Praise God for bringing Hauwa and Kadiatu into relationship with him! Pray for continued strength in their walk—that they may come to know God's grace more deeply and shine as a light to those around them.
This story was originally published by Christian Courier.