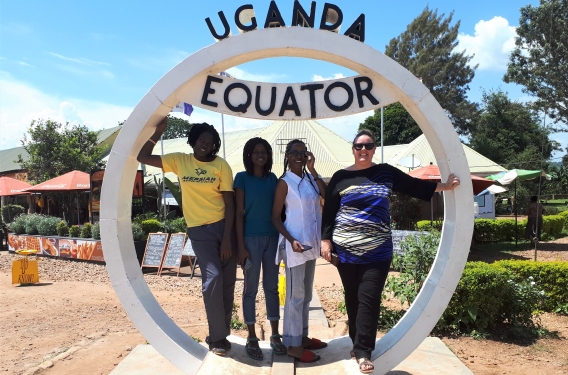 When Grace decided to follow Jesus, she wanted to grow spiritually. But outside of meeting for worship, Grace's church didn't have discipleship opportunities for believers to walk alongside one another to grow in relationship with God.
"We don't really have fellowship where we share the word in-depth and also share about our life experiences together—smile together, cry together, laugh together—it's not there," said Grace.
But then Grace's friend invited her to join a Bible study led by Resonate Global Mission missionary Karen Lubbers in Uganda, and Grace found the discipleship she had been searching for. Now, Grace is discipling teenagers in her community.
Gathering together to grow.
Grace is one of three young women whom Karen disciples. Every Sunday, they gather in Karen's living room or around the kitchen table to share a meal together, read Scripture, and discuss how to put their faith into action.
Seeing a need.
One day, Karen gave the group an assignment, asking them to think about where they could invest their time.
Grace kept thinking about the teenagers who crowded into church on Sundays for worship and a sermon. She wanted them to be more involved in the community.
"They didn't have anywhere to belong," said Grace. "I felt there was a need for them to stay around church, grow, and get to know more about Christ. Karen talked about leadership so much, I realized I was a leader," said Grace. "I knew I needed to start something."
Discipling teens to live out their faith.
Grace asked one teenager if she would be interested in joining a discipleship group where they would play games and study Scripture together. The teenager was so excited about the idea, she told one of her friends, and the word quickly spread. Now, Grace leads a discipleship group of 25 teens who share openly and freely with one another.
"We want to see many get to know Christ and grow spiritually," said Grace. "Live the life Christ wants of us—live it and act it out, not just talking."
Disciples make disciples! Thank you for supporting Resonate missionaries who equip and empower believers like Grace to be leaders in their communities! Please pray for Grace and these teenagers as they live out Scripture.