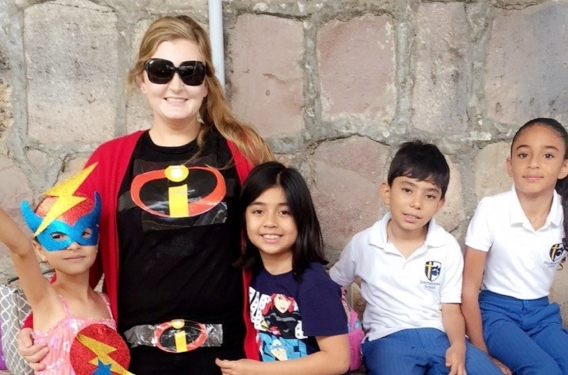 Hannah Damsteegt's class of third graders was eager to learn more about God, but weren't sure how. This all changed when their teacher taught them a science lesson about dinosaurs.
A missionary with Resonate Global Mission serving at International School Tegucigalpa in Honduras, Hannah is passionate about her third grade students and sharing the love of Christ. She strives daily to guide her students both academically and spiritually. Hannah especially loves to share God's word in the classroom whenever she can.
"If I see an opportunity, I take it and run with it," says Hannah.
One day just such an opportunity presented itself. For her science lesson that day, Hannah had planned to teach her students about dinosaurs. She decided to tie in the creation story in the Bible with her lesson to show how God's hand is in all parts of creation.
"[The students] were so attentive during the lesson, engrossed in the material," said Hannah.
Instead of going outside to play for recess, Hannah's students crowded around her desk, desperate to learn more about this amazingly creative God and His fascinating creatures.
And their interest didn't stop there. A week later, a student approached Hannah. She told Hannah that she had gone home after the dinosaur lesson and studied other parts of her Bible. Upon looking through the book of Revelation, she was ecstatic when she thought she found another reference to dinosaurs in the Bible.
After the student shared her story (a story involving a dragon) with her friends and Hannah, other students in her class asked Hannah if she could teach about Revelation, too!
"I could not believe my ears," said Hannah. "Third graders asking for lessons on the Revelation of John!"
Once again, God had provided Hannah with another opportunity to teach her kids about His Word.
Hannah reached out to Curt Walters,  pastor of Covenant Christian Reformed Church in Grand Rapids, MI, to get advice about teaching such a complicated text to 8 and 9-year-olds. Curt had taught a series of sermons on the Revelation of John to his congregation and thus had many available sources to share with Hannah.
Today Hannah has so much content to share, she says her unit on Revelation "could very well be a year-long study."
By teaching God's word to her students, Hannah has in turn learned more about God's great love.
"I see that God stirs in the lives of young children. He provokes in them questions, but sometimes those questions are left unexplored because perhaps they do not have the appropriate resources to turn to."
Through her teaching, Hannah has been able to be a resource for her thoughtful third graders and put into practice her spiritual gifts.
"My spiritual gift is hospitality and service. I enjoy doing acts of kindness unto others, and I like leading my group of kids. I like the feeling of my kids seeking me out for guidance."
Hannah's experience as a teacher has spiritually transformed not only her students, but her as well.
Thank you for supporting missionaries like Hannah Damsteegt. Please pray for Hannah as she continues to further God's kingdom through teaching in Honduras. Pray that her students will continue to thirst for the word of God, and that God will work through Hannah as she teaches them.