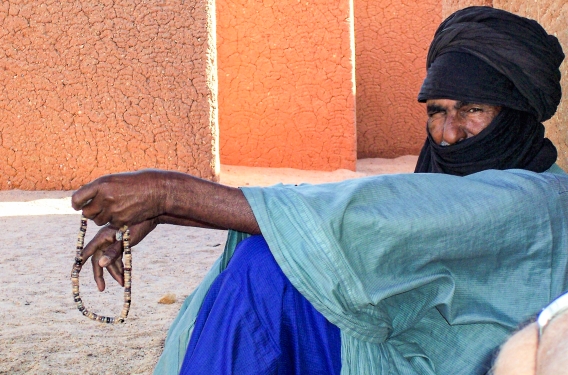 When Pastor Akin participated in training you made possible, he felt called to build relationships with his neighbors—including a Muslim prayer leader.
Akin is a pastor in Niger, a country where most people practice Islam. But the church is growing in some parts of the country too. Training for pastors is hard to come by in Niger, but you make it possible to train pastors like Akin through Timothy Leadership Training (TLT).
Through TLT, Resonate Global Mission provides affordable, doctrinally sound, and effective training to equip pastors like Akin to spread the gospel.
At the end of each manual, every participant creates an action plan to put learning into practice. When Akin participated in the first training on Caring for God's People, he made an action plan to regularly visit his neighbors as a way to show care. Many people were glad to see Akin, and they enjoyed a good conversation.
But there was one person who wasn't as happy to see him.
Befriending an Islamic Prayer Leader
Akin decided to visit Hadid, the imam—or Islamic prayer leader—of the new mosque in the neighborhood. 
Hadid wasn't interested in talking with Akin. He knew Akin was a Christian and a pastor, so he was cautious. Even unfriendly, Akin noted. Whenever Akin passed Hadid on the road, Akin would stop and say "hello."
Hadid ignored him.
But Akin continued to greet Hadid and attempt conversation. Because of the TLT training you made possible, he knew it was the right thing to do. He felt convicted by the Holy Spirit to continue in his plan to care for his neighbors.
And then Hadid was badly injured in a motorcycle accident with one of his followers. Akin offered to bring Hadid to a nearby Christian health center.
Hadid said no.
Still, Akin visited Hadid every morning and every evening. Akin could tell Hadid was in pain. Time and time again, the pastor asked the imam if he would like to go to the health center, but Hadid continued to refuse.
And then one day while Akin was working, a child ran up to him with a message from Hadid—he couldn't take the pain any longer. His body wasn't healing on its own.
Hadid wanted to visit the Christian clinic.
A Change of Heart
Akin immediately went to pick up Hadid and drive him 40 kilometers (about 25 miles) to the health center. He did this time and time again throughout Hadid's treatment.
As Hadid received the proper medical care, his body began to heal.
One day as the two were driving back home, Hadid turned to Akin and said: "Pastor, you really are a man of God. I thank you … you stayed with me until I was cured."
Praise God that Hadid is healing from his accident and that Akin was able to help care for him! Akin is praying for the Holy Spirit to "touch Hadid's heart." Will you please join Akin in prayer? Pray that Hadid comes to know Jesus as his Lord and Savior.
*Names changed for security