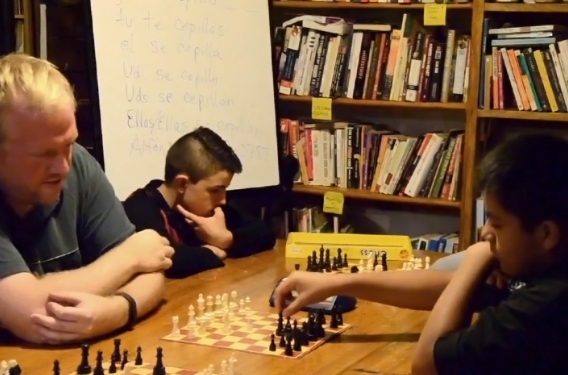 "These kids could be doing anything on a Friday night," Micah Schuurman, a missionary with Resonate Global Mission in Costa Rica laughed, explaining that the chess club he runs has been growing more quickly than he expected. "Not all those things are good but most are more interesting than hanging out with a gringo. I keep waiting for them to stop showing up one day."
But they keep showing up.  
Like most teens, the kids who show up are trying to find their way in the world, navigating challenges at home and at school. 'We talk about those challenges together while we play," said Schuurman.
Playing chess has also led participants to learn about and serve in other ministries that take place at the ministry center where the club is held.
One evening, Esteban and Rubén (names changed) stayed long after the chess club usually ends. Esteban's mother had been attending a series of organic gardening workshops at the ministry center and they were curious to learn more.
"I told them about our composting system, our use of reusable shopping bags and our commitment to recycling," said Schuurman, "as well as some of our less common practices like our grey water system."
That conversation led to the bigger question of why all this creation care is important for the ministry center.
"I shared with them that for us, creation care is a direct consequence of our faith in God. God created humans to be caretakers of the earth. For us, caring for the creation is a way of expressing love and gratitude to the creator."
Schuurman sat there for nearly an hour, talking about the kingdom of God and God's love for all aspects of his creation. This perspective was new for Esteban and Rubén.
"There are a lot of environmentalists in Costa Rica, and there are a lot of Christians, but there aren't many people who talk explicitly about faith and creation care as things that ought to go hand in hand."
This unusual mix of faith and creation care is part of the Reformed faith and has sparked interest in Costa Rican young people. While chess and conservation may seem like unlikely outreach tools, they are opening doors to Kingdom work.
This article appears in the 2017 CRCNA Annual Ministry Report