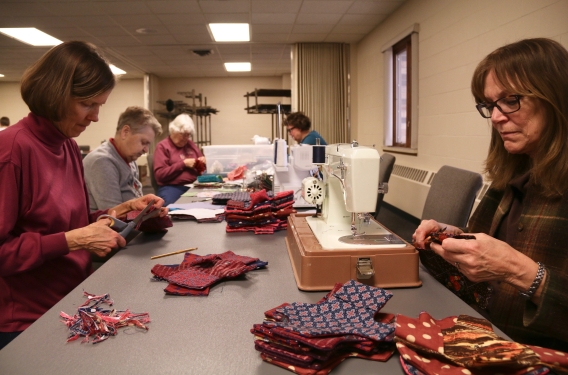 "How can we do missions right here at home? And how can we as a church be more intergenerational?"

The answer to those two questions ended up being one and the same. 

Members of Faith CRC in Sioux Center, Iowa, pondered these questions at a table discussion with other members of her congregation. Faith CRC was in a time of transition—they had a new pastor, and they were evaluating their congregation's needs and desires for the future.

As you may know, transitions like this can be scary and intimidating. But thanks to your support for Resonate Global Mission, beautiful new ministries can come out of such times of discernment.

That's why donors like you made it possible for churches to take part in the Healthy Church process, a discernment process designed by Home Missions (now part of Resonate) to help established churches strengthen their ministry. 

As members of Faith CRC worked through this process, they brainstormed ideas for new ways they could be the hands and feet of Christ, serving him in mission.

Fast-forward a few months, Faith CRC hosts a lively scene at a meeting for its newest ministry—SOWing (Serving Our World in nurturing girls), a sewing group that makes items such as washable sanitary pads for young women who do not have access to disposable feminine hygiene products.

"On a typical SOWing afternoon, along with the buzz of sewing machines and sergers, women and girls from all generations are cutting pattern pieces, cutting fabric, and trimming and pressing finished items. As they work side by side, we see relationships begin to form," says Delores Zonnefeld, a member of Faith CRC.

What a beautiful thing that is happening: generations of women coming together for fellowship and achieving a common ministry goal! 

The group uses the sewn articles to deepen their relationship with a ministry that Faith CRC was already involved in—the mission work of Resonate's Michael and Megan Ribbens in South Africa.

"We are now so much more aware of what Michael and Megan are doing in South 
Africa and how to partner in their ministry," says Delores.

As generations of women at Faith CRC continue to meet regularly to teach one another new techniques and learn more about each other, they are also able to give extra fabric to a nearby nursing home for the residents to use for quilting. The blessing rolls on and on.

Where there once were confusion and uncertainty about a church's future, now there are friends who enjoy joining together and joining God's mission. 

Faith CRC is a stronger church because of your partnership. Thank you for your faithful support that is strengthening churches right here in North America and around the world.