"Who is getting baptized today?" asked Pastor Neang. Forty-one people raised their hands.
One Sunday afternoon, a group of believers from three churches in Cambodia gathered near a water reservoir.
"Who is getting baptized today?" asked Pastor Neang.
Forty-one people raised their hands.
You're Helping to Spur Kingdom Change
Pastor Neang is one of the local pastors you support in a rural area of Cambodia. Where he and his community live, the landscape is beautiful. There are blossoming lotus fields of pink and white. The grass, palm leaves, and rice fields shimmer a vibrant green.
"It's beautiful, but life for people is very hard here," said Navy Chann-Chhay, one of your Resonate missionaries.
People live on meager incomes. There is no electricity, and families do not have easy access to clean water. With little money, people often struggle to maintain proper nutrition. When there's an accident, it takes a long time to get medical care. Domestic abuse in families is rampant.
But God is at work in this community. Through Timothy Leadership Training (TLT) that you help make possible, Navy and her husband, Ly Chhay, are equipping and training local pastors like Pastor Neang.
Ly says the community is witnessing "kingdom change." People are learning about the good news of Jesus, and it's transforming their lives.
Celebrating Baptisms
Pastor Neang is a natural leader in his community, and working with Navy and Ly through the TLT curriculum has helped to strengthen his leadership and his ability to share the gospel and minister with his neighbors. Through TLT, he has learned to intentionally take time to visit and care for the people who live near him. As he has shared the gospel with more people, his church has grown.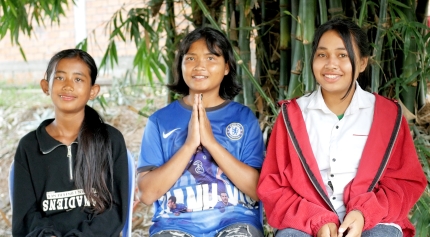 That Sunday, Pastor Neang and two other pastors brought their churches together to worship God and celebrate baptisms. Everyone had big smiles on their faces as the 41 people lined up to be baptized. Among those who came forward to be baptized were Chenda, Sophea, and Sytha—three teenagers.
They had learned about Christ through Pastor Neang. They come from families who practice Buddhism, but all three of these teens now believe that Jesus is the one true God. Their families aren't happy about their faith, and these young women have experienced resistance, but their relationship with Christ is precious to them.
Sophea said that before she believed in God, her parents fought all the time. But now that she believes in Jesus, she has begun praying for her parents. They have stopped fighting and have improved their communication. They get along better now.
Hope for the Future
Because you support local leaders like Pastor Neang, new believers like Chenda, Sophea, and Sitha now know that they are children of God! Each of these young women described a feeling of lightness after being baptized. It was as if they left all of their burdens and challenges in the water, they said.
Chenda, Sophea, and Sitha are all Sunday school teachers now. They teach young children about the Bible, but they're also passionate about sharing their faith with their friends and family members. Pastor Neang coaches and encourages them. Sitha wants to start her own church someday.
Thank you for supporting the local church in Cambodia! People are learning about Jesus, and the gospel is transforming their lives.