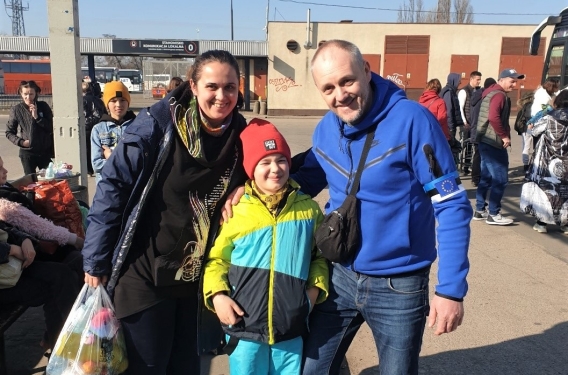 Your support is making it possible for a church in Estonia to care for refugees fleeing Ukraine.
Kateryna and her nine-year-old-son Ivan* closed the front door of their home in Ukraine for the last time. Carrying what they could, they made their way through the forest—out of the combat zone and toward the train station in Warsaw, Poland. 
As hours passed and their feet started to ache, they eventually met the Ukrainian military. Over the next few days, Kateryna and Ivan were passed along from military member to military member as they tried to make their way safely to Poland.
By the time they made it to the train station, they were physically exhausted and emotionally traumatized.
But because of a grant you made possible through Resonate Global Mission, a pastor was there to meet them.
A Need for Support
According to the United Nations, at least 12 million people in Ukraine have fled their homes, with at least six million internally displaced. Another six million have crossed borders to seek refuge in other countries.
Many Ukrainians have found refuge in Estonia, and Salt of the Earth Church wanted to help. Resonate has a long-standing partnership with Salt of the Earth Church. Resonate missionary Gary Timmerman supports Pastor Pavel, who planted the church a few years ago. The partnership between Salt of the Earth Church and Resonate goes back several years, while Gary was serving in Eastern Europe, but it has continued even after Gary moved across the Atlantic to minister among the Russian diaspora in the Greater Toronto Area. 
I love all this ministry and what it's doing to our young church.
Through your support of Resonate, you're helping to equip Pastor Pavel and his church to share the gospel and serve their community. Recently, they received a grant to aid refugees like Kateryna and Ivan.
In the first three months, Salt of the Earth Church was able to provide assistance for nearly 70 people. They were able to provide lodging, food, medicine, mobile phone connections, consultations, spiritual support, and more.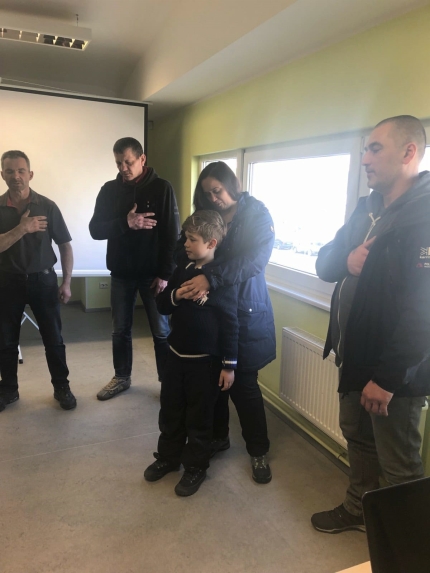 Sharing the Gospel
When Pastor Pavel received a call that a mother and son were making their way to the train station in Warsaw, he traveled to meet them there. He brought Kateryna and Ivan back to Estonia, where he helped them secure shelter, food, and other supplies. He gave them a used laptop so Ivan could study online and Kateryna could search for a job.
Kateryna and Ivan had terrible memories from the constant fighting in their country and the journey to find safety. It was easy to see the fear and weariness on their faces. In the midst of their anxiety and grief, Pastor Pavel was able to share the gospel with them.
Neither Kateryna or Ivan are Christians, but they are interested in the story of Jesus. Week after week, Pastor Pavel invites them to worship with Salt of the Earth Church. Kateryna doesn't always accept his invitation, but she has worshiped with them at least twice. She has also prayed.
"[She] is very open to listening to the gospel from us," shared Pavel.
Please Pray for the Journey Ahead
Estonia is not Kateryna and Ivan's final destination—they still have a journey ahead of them. Kateryna's aunt in Canada is ready to welcome them, and Pastor Pavel and his church are helping them to prepare documents they'll need.
Thank you for being a stop on their journey in a strange land! You helped make it possible for Pastor Pavel and his church to provide support. 
"Thanks to Resonate Global Mission's grant to mobilize our church in ministry, we have meaningful material help that we can use to bless these people and grow our ministry," said Pastor Pvel. "I love all this ministry and what it's doing to our young church."
Will you please pray for Kateryna and Ivan? This is only the beginning of the journey for them, and they still depend on support from mission-minded people like you.
Pray for Kateryna and Ivan as they find and settle into a new home. They heard the gospel for the first time! Ask the Holy Spirit for healing from the trauma they experienced and that they would experience the hope and peace of Emmanuel, God with us.
*Names have been changed for security purpose