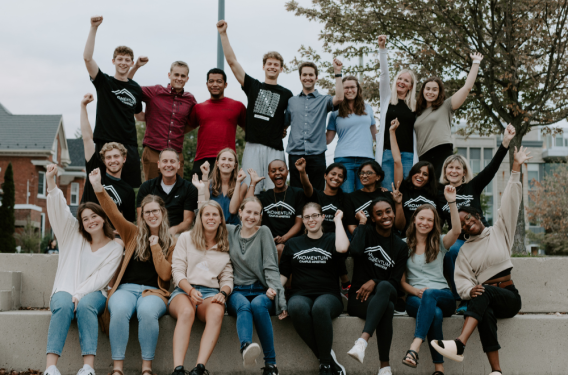 Some people have never had the opportunity to hear the gospel. For Lana, you helped change that.
Lana (name changed) was an atheist.
In her part of the world, that's not unusual. She's from a country where it's not always safe to live out your faith in Christ. 
If you were a Christian living in this country, you'd have to be careful about where and when you gathered with other believers. You wouldn't be able to talk openly about your faith. It's also very difficult to send missionaries to this country. We can't go there.
Lana had never heard the gospel before. But then she moved to Canada to study at Queen's University in Ontario—and one of her friends invited her to worship with Geneva House, a campus ministry that you support through your giving to Resonate.
After worship, Lana was intrigued enough to attend a small group gathering too. The small groups were working through a study called "The Thinking Series: The Top 5 Questions Our Culture Is Asking Today." For the first time in her life, Lana heard the gospel message that night.
And she was captivated.
Captivated by the Gospel
Lana kept coming back to your campus ministry. She continued to attend the worship gatherings and joined a small group. She was quiet at first, but one night she asked for a Bible. A week later, she told your campus ministry leaders that she was reading the Bible "all the time."
"When I read my Bible, I feel peace," she said.
Lana started asking tons of questions. About the Bible. About Jesus. About what it means to be a Christian today. With support from your campus ministers, she joined a local church and started meeting with the pastor too. One day, she shared some exciting news.
Lad had prayed to give her life to Christ!
Sharing the Peace of Christ
We can't easily send missionaries to Lana's country—but she already has connections back home. Lana is passionate about sharing the gospel with her family and friends. Lana's mom is an atheist, but ever since Lana shared her testimony, her mother has been open to Christianity. They're currently reading C.S. Lewis' Mere Christianity together.
Thank you for your support of Resonate! It's because of donors like you who are passionate about Christ that someone in Canada was ready to share the gospel with Lana, disciple her, and connect her with a local church. And now, she's sharing about Christ with people who have never had the opportunity to hear the gospel before. Just like her.
But Lana is just one student.
At Resonate, we hear about students like Lana all the time. There is a growing number of international students studying on university campuses throughout Canada and the United States who have never heard the gospel—but they want to. And we have missionaries, church planters, and campus ministry leaders right here in Canada and the United States to share the love of Christ with them.
Will you give a gift today to support this ministry? Will you share the gospel with students who have never had an opportunity to learn about Jesus before?