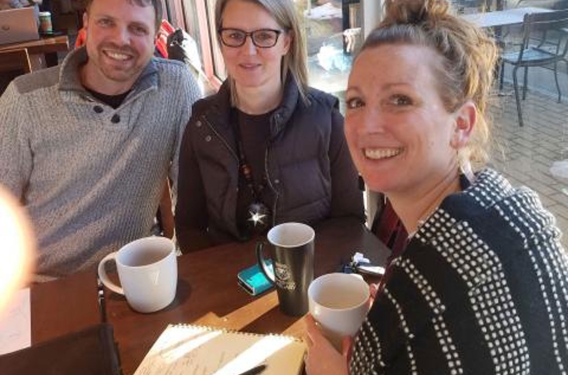 Fresh out of Calvin Theological Seminary, Paul Verhoef was called to serve as the first Christian Reformed chaplain at the University of Calgary in Calgary, Alberta. He recalls arriving at his newly renovated, freshly painted office on August 3, 2004, and looking around.
There was no furniture in the room. The office was just a 10-by-10-foot space connected to seven other empty offices along a common hallway and joined by a gathering space, said Paul. A new thing was starting, but work had to be done.
"For the first few days, I needed to bring my own folding chair and card table, and I set up shop—with very little idea of what to do next. I wondered how I was going to build this ministry," he said.
"It takes time to get to know a place, a people. It takes time to become a part of the community, to be trusted. It takes time to make a difference, especially if we want those changes to be locally owned and not pushed on the university from the outside."
He got to work.
Building Campus Ministry
Nearly 15 years later, student Dustin Pearson got to know Paul during Wednesday-evening dinners and discussions in which the chaplain provided a safe place to ask questions and talk about matters of faith. More than that, Paul has been a mentor and pastor—he even performed the ceremony when Dustin married his wife.
"Campus ministry has meant a lot to me and has radically transformed who I am," said Dustin. "In my second year I became a Christian … campus ministries have made me a better person, more aware of those around me, and engaged in the present and current
Dustin is just one example of how Paul has seen God at work through campus ministry. Coming from a Mennonite background, Jonas Cornelson met Paul when he was in graduate school. As soon as he started to talk, Jonas said, he felt comfortable sharing with the campus minister struggles he had been having with his faith. Jonas and a few others met for contemplation and prayer over lunch hours this past semester.
"Paul is an open, non-judgmental listener," he said. "I commend him for his commitment to building intentional community, to the extent that it is possible at a large, sprawling campus like ours."
Christlike Presence
Building this intentional community starts with being a good neighbor to the people he meets. Which, Paul said, is the simple answer to the big questions he asked when he started out 15 years ago.
He recalls Bill Van Groningen, another campus minster, once asking him to imagine a church in a neighborhood. If that church had to shut down, would people in the neighborhood who were not members of the church even care? How did the church relate to the neighborhood? Did it connect with people to find ways to share life and challenges together? Did it try to translate the message of Jesus into words and actions that affected the neighborhood? Or did that church remain aloof?
"Listening to Bill, I had to ask, If the CRC left this campus, would we be missed?" Paul said.
As time has passed, Verhoef has seen how God is always at work—that the Spirit of God is always moving, breathing, creating life, reconciling God's world back to God, and doing this on the campus in Alberta.
Looking back over his time at Calgary, Paul is confident that he has become a good neighbor. With God's help, he has touched hearts and minds with Christlike love.
Paul added that he hopes and prays the university would miss the CRC's presence if it were no longer there.
A version of this story was originally published on crcna.org. It was written by Chris Meehan from CRC communications and was re-published and edited with permission.