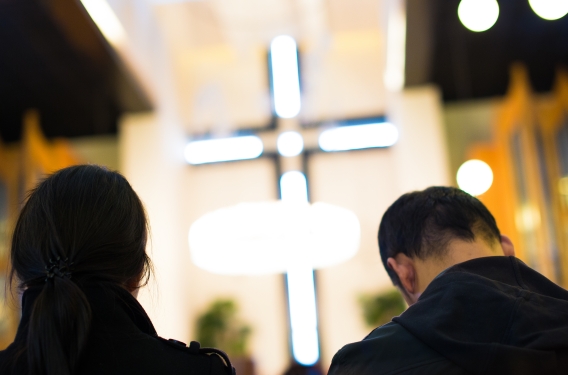 After participating in Educational Care Training with Resonate Global Mission, Mr. Lim (not real name) returned to his home in East Asia and was visited by the police—four times.
Where Mr. Lim lives, it's illegal to share the gospel and the government keeps a close eye on all religious organizations and activities. Nevertheless, Mr. Lim is determined to provide a Christian education for students at the school where he serves as principal. 
Dedicated to Christian Education
"[Mr. Lim] has been dedicated to building up a Christian school for decades, fighting the good fight," said Resonate missionary Daniel.
And it is a fight. Because the government watches religious activities so closely, Mr. Lim feels isolated in his ministry. It's risky to connect with other Christian educators, to discuss challenges and bounce ideas off of one another. And there aren't any training opportunities nearby that will help him do his job better. 
But then one of Mr. Lim's friends heard of Educational Care, a program of Raise Up Global Ministries that's facilitated by Resonate missionaries throughout the world. He was excited about what the training could do for Christian education in his country. He worked with Resonate to coordinate a training in a nearby country where Christians could gather safely and peacefully, and invited Mr. Lim and other educators to participate.
An Empowering Training
"The training [that Mr. Lim] participated in was a powerful one," said Daniel.
For the first time, Mr. Lim could gather with other Christian educators and openly discuss their work without worrying who would overhear. He learned about a Reformed view at the training—he found it empowering that faith could be incorporated into every aspect of life, including the classroom and learning.
Mr. Lim brainstormed with other teachers: How could they incorporate a Christian worldview into every aspect of their school? Into discipline, lessons, and classroom management? When Mr. Lim returned from the training, he got to work. Staff, students, and parents noticed a big difference.
But so did local authorities.
A Stern Warning 
One day, a couple of policemen arrived at the school and demanded to "have tea" with Mr. Lim.
Nervous, but not able or willing to turn the policemen away, Mr. Lim invited them into his office and served them tea. They politely sat down, but it wasn't long before they told him, matter-of-factly, that they were watching him.
"We have spies in the neighborhood," they told him. "We're hacking your text messages, internet communications, and phone calls."
The policemen stood up, straightened their uniforms, and left. Mr. Lim was shaken. What would happen if, after attending more trainings with Resonate, he was detained in jail? What would happen to his wife and son? To the students and teachers he led? To the parents of the school?
But what would happen if he gave up?
Perseverance
"He knew that he is not supposed to continue to participate in Christian education training," said Daniel. "But he also knew that it is vitally important to have Christian training for his school teachers, the students, and for the future of Christian education in his country."
Cautious but determined, Mr. Lim continued his work.
And the policemen came again. And again. And again. The fourth time they visited him, they gave him a stern warning: "If we come to you once again, then we will take you to prison," they said.
Still, when Mr. Lim's friend asked him if he would join Resonate for another training, Mr. Lim said, "Yes."
Will you please pray for Mr. Lim? The Resonate trainings help Mr. Lim lead his school so teachers can better share the gospel with students and disciple them into stronger relationships with Christ, but Mr. Lim is risking his freedom. In Matthew 5:10, Jesus says "blessed are those who are persecuted because of righteousness." Praise God for Mr. Lim's willingness and dedication to give his life for God. Ask God to protect him and his family and to bless his school.